Member of the Month: AFRICOM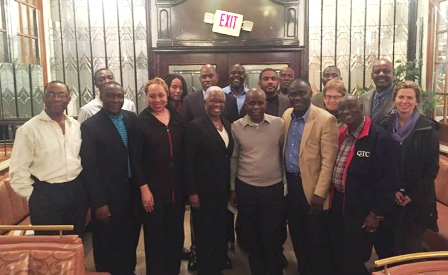 The Coalition of African and Caribbean Communities (AFRICOM) was established in 2001 to serve as the umbrella organization to diverse African and Caribbean community-based and faith-based organizations. AFRICOM's mission is to empower immigrants and refugees to integrate into the social and economic fabric of the Greater Philadelphia area through services that include: business development, health and social services, community livelihood and support, advocacy, leadership training, and immigration legal assistance.
Since joining PICC in 2014, AFRICOM has benefited from greater funding sources, leadership trainings, and assistance with its application for accreditation before the Bureau of Immigration Appeal. A year later, AFRICOM was awarded its largest grant ever to expand its immigration-related services and offer informational sessions and legal clinics, doubling the number of people it serves. Follow AFRICOM on Facebook or donate to show your support.
---
Defending DACA and Fighting for More...
This summer, Texas and nine other states sent a letter to the US Attorney General demanding that the administration rescind DACA by September 5, 2017 or it would add DACA to the lawsuit filed in 2015 to challenge DAPA. DACA has provided temporary protection from deportation and increased employment and educational for almost one million young people in the last five years. In addition to the many community groups across the country that are organizing to defend DACA, MALDEF filed a motion last week to stop Texas' potential court challenge.
While DACA is an important program, it leaves out too many of our community members, and does not provide access to legal status or citizenship. We were excited to see the introduction of the 2017 DREAM Act two weeks ago, which would provide a pathway to citizenship for DACA recipients. This is an encouraging positive step after months of attacks on immigrant and refugee communities. Unfortunately, this bill still excludes many young people, along with their parents and other community members – so we will continue to keep up the fight for protections for everyone in our communities.
Stay tuned for updates and details on PA events. Also check out actions items from United We Dream.
---
Senate to Vote on Increased Funding for Immigration Enforcement
Immigration enforcement has been at the center of this year's budget debate. The House just passed a "minibus" last week that would provide funding for a border wall, increased enforcement, and immigrant detention. The bill is heading to the Senate, and if passed, would mean thousands more families torn apart and detained.
The Make America Secure H.R.3219 (115) "minibus" was originally scheduled to be voted on after August recess. However, it looks like the bill might be brought up this week. One of the key Senators who could help stop this vote is our very own, Sen. Casey. Please take five minutes to call his office and let him know that a vote for the Make America Secure is a vote for the border wall and the President's agenda of tearing apart immigrant families.
---
SAVE THE DATES: Community Navigator Trainings in August

This summer PICC will be hosting a series of Community Navigator trainings for our members and partners. These trainings are for volunteers and community leaders, and will teach them how to lead community Know Your Rights and Deportation Defense sessions, and assist with comprehensive legal screenings and naturalization applications. All trainings will be offered in both English and Spanish. We have set the dates and times for the first trainings, and will be sending out registration information for all events in the next week. Stay tuned!
Module 1: Orientation and Immigration Basics
English: Aug. 15, 10am-12pm and Aug. 18, 3pm-5pm
Spanish: Aug. 17, 7pm-9pm
Upcoming Events
For an updated list of upcoming events, see PICC's event calendar.
Free Information Session on Citizenship
Fri Aug 4, 10:00am - 12:00pm
International Service Center, 21 South River Street, Harrisburg, PA 17101
Attend this free Citizenship Information Session to learn more about the eligibility requirements and application process for naturalization. Contact Sailey Sey at sailey@isc76.org or 717-230-8741 for more information.
#StoptheHate Bi-Weekly Call
Fri Aug 11, 12:00pm
Join activists from around the state who are working to stop all anti-immigrant legislation in PA and to pass pro-immigrant policies at the municipal and state levels. Every call we will have an in-depth presentation on a different topic or campaign.
Registration is required to receive the video link and call-in information.
#ShutDownBerks August Vigil
Sun Aug 20, 3:30pm
Berks Family Detention Center, 1040 Berks Rd, Leesport, PA 19533
Join faith organizations and allies at the Berks Detention Center to show families that we are still fighting for their freedom. Reverend Sandy Strauss from the Pennsylvania Council of Churches will be leading the August Vigil. RSVP and more info on Facebook.