Member of the Month: Fernanda Castillo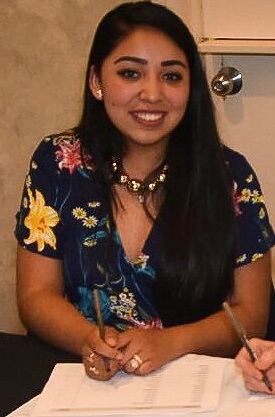 Fernanda Castillo is a Department of Justice Accredited Representative at the Pennsylvania Immigration Resource Center in York, PA. "My mission at PIRC is to provide Legal Orientation Presentations (LOP) at the York County Prison as well as Berks County Family Center for immigrants that are being detained by ICE. We serve between 150 to 200 immigrants every month that are in desperate need to know what their rights are, what to expect in front of the immigration court, if they are eligible for any type of relief to gain legal status as well as eligibility for bond and voluntary departure. Without PIRC I will not be able to do what I love which is help people that are in need."
---
Adminstrative Attacks on Immigration
While the last few weeks have been filled with news of family separation and family detention, this administration has continued to move forward on other anti-immigrant initiatives.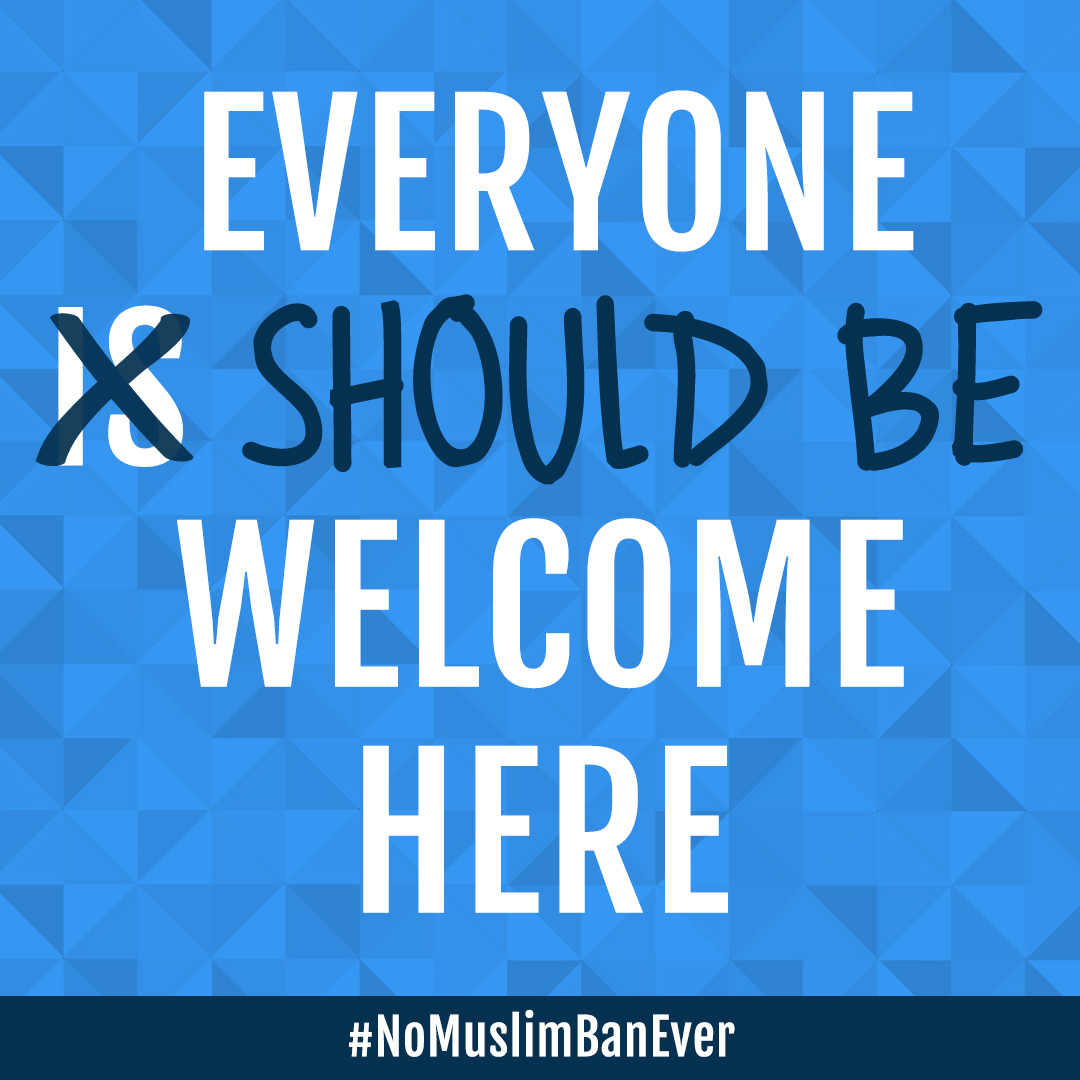 1) Nomination of anti-immigrant advocate to lead the refugee resettlement agency
From day one, this administration has attacked refugee resettlement, from halting refugee resettlement as part of the Muslim Ban executive orders, to slashing the number of refugees resettled to all-time lows. On May 25, 2018, the president continued these attacks by nominating Ronald Mortensen to serve as Assistant Secretary of State for the Bureau of Population, Refugees, and Migration (PRM), the State Department agency that helps resettle refugees in the U.S. Mr. Mortensen is an anti-immigrant extremist and lacks relevant experience to lead an agency that is tasked with welcoming and resettling people fleeing violence and persecution from across the world. His anti-immigrant views are well documented, and include accusing Senator John McCain of "rolling out the welcome mat for ISIS," and blaming Dreamers for "destroying the futures of innocent American children." This nomination requires Senate Confirmation, first in the Senate Foreign Relations Committee. Senators need to hear from advocates, community members, and local faith, business, and community leaders, to convince them that this unqualified and extreme fringe nominee should not be confirmed. The We Are All America campaign is leading efforts to stop this confirmation. You can get involved by:
See the We Are All America toolkit for talking points and more information.
2) Proposal to add a question about immigration status to 2020 Census
In March 2018 the U.S. Commerce Department announced its decision to include a new controversial question about citizenship status in the 2020 U.S. Census. This late addition is unnecessarily intrusive and untested, and if included, will disrupt the collection of objective data and jeopardize a fair and accurate census. Pennsylvania easily could lose one or more representatives in the U.S. House of Representatives based on the 2020 census, especially if the count misses key communities like kids, immigrants, and communities of color and others who have been historically undercounted. Our commonwealth and its communities also could lose out on billions in federal aid because of an inaccurate census as a result of this new question. This is issue is far from finished. The public comment period on the U.S. Department of Commerce's decision to include the question is now open, so there is still time to act. But you need to act fast: Comments must be submitted by Aug. 7.
Keystone Counts is leading a statewide effort to ensure that we have a fair and accurate census count in Pennsylvania. Download talking points, sample comment language, and factsheets on their website.
---
Pennsylvanians Block Access to Berks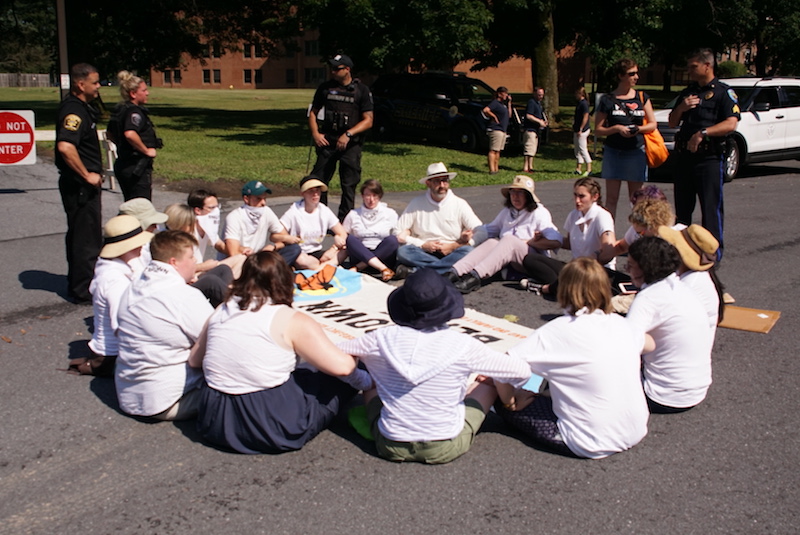 On Sunday, July 15, as part of the monthly vigil organized by the Shut Down Berks Coalition and Shut Down Berks Interfaith Witness, 17 Pennsylvania residents blocked access to the Berks Family Detention Center, demanding that Governor Wolf issue an Emergency Removal Order and end family detention in Pennsylvania. Vigil participants read statements from families who had recently participated in the caravan that crossed the U.S./Mexico border in the spring who were then held at the Pennsylvania prison, as well as statements from mothers and a father who were held at the center between six months to two years.
This action comes after the PA Dept. of Human Services decided to not renew the license for the detention center in February, 2016 and after the Shut Down Berks Coalition has repeatedly provided legal research to the Governor's office, outlining the state's ability and duty to close the family detention center.
Just days before the vigil, the first family to be separated at the border and then reunited in detention was transferred to the Berks County Detention Center, with the federal government's intention to move this family into deportation as quickly as possible. Every day the unlawful prison is in operation the Governor is facilitating Trump's vision of mass family detention and family separation. Through his inaction, the Governor is complicit in ICE's violations of the human rights of immigrant families at the prison. Take action today!
Call Governor Wolf, and ask him to stand up for justice and issue an Emergency Removal Order and close the doors of this inhumane detention center.
---
Enforcement Resistance Training Recap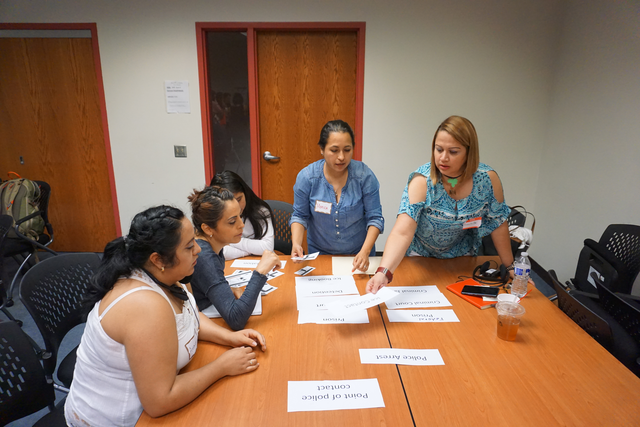 Since day one, the Trump administration has increasingly targeted immigrant and refugee communities, unnecessarily separating families and upending communities across the country. For months, PICC and its partner organizations have been strategizing on how to best empower our community members to resist intimidation and protect their loved ones. Through PA is Ready!, six community groups and five legal service providers were awarded grants to develop and implement organizing and legal responses to protect and defend immigrant and refugee communities from increased targeting and egregious practices by immigration agents. As a first step in developing a coordinated, statewide response to increased immigration enforcement in Pennsylvania, PICC partnered with Juntos to host three regional trainings for community members and allies to gain the skills necessary to create safer communities and stop unjust deportations.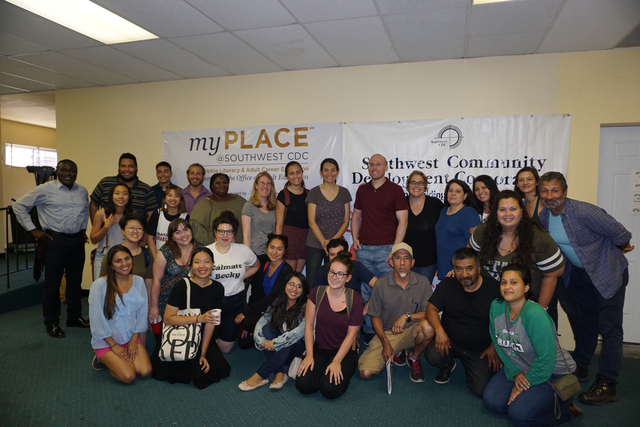 Participants gained a deeper understanding of our dysfunctional immigration system and the detention and deportation process, as well as the "Community Resistance Zone" model, as implemented by Juntos in Philadelphia. They also learned how to effectively conduct door-to-door conversations with community members, how to recruit allies to support immigrant-led campaigns, and how to conduct strategic case-based campaigns that highlight injustices in the immigration system.
More than 90 community members and allies participated in the trainings in Pittsburgh, Harrisburg, and Philadelphia. Moving forward, community groups will begin implementing their localized responses according to their capacity and needs. PICC would like to thank our partners Casa San Jose in Pittsburgh, Catholic Charities in Harrisburg, and the Coalition of African and Caribbean Communities (AFRICOM) in Philadelphia for each hosting one of the regional trainings.
July Call In Day: Governor Wolf Shut Down Berks!
Shut Down Berks Coalition
Wed.July 18,9 am-5 pm
Governor Tom Wolf and the Pennsylvania Department of Human Services have the power to issue an Emergency Removal Order on the Berks County Detention Center, an action that would ensure the facility can no longer be used as a prison. It is not only their moral obligation to keep families out of jail but their legal responsibility. FAMILY DETENTION IS ILLEGAL.
Call Governor Wolf and demand he take action to protect immigrant families.
Governor Tom Wolf (717-787-2500)
PA DHS Secretary Miller (717-787-2600)
Shut Down Berks Campaign Training – August
Thu Aug 2. 6pm.
Join us via webinar to get prepared for your lobby visit to Governor's Wolf office. He needs to hear from constituents that 2018 is the year he issues an Emergency Removal Order to ensure no new families are brought to the Berks County Detention Center.
This training will review the history of the center, how to lobby and the research that proves that the state of Pennsylvania can in fact issue an Emergency Removal Order. Learn more about the Campaign.
#StoptheHate Monthly Educational Webinars – August
Fri Aug 3. 12:00 pm-1:00 pm
Join activists from around the state who are working to stop all anti-immigrant legislation in PA and to pass pro-immigrant policies at the municipal and state levels. Every call we will have an in-depth presentation on a different topic or campaign. Please register to receive the information to join the calls. Register Today!
Topic: Mental Health in Immigrant Communities
Aug 17-19
This is a weekend dedicated to bringing together 30 immigrant youth that originate from different walks of life across PA. This is an opportunity for us to share our stories and develop leadership skills, organizing skills, and have a chance to build relationships with other youth who share our similar experience and goals
When: August 17-19, 2018
Ages: 14-25
Cost: $35.00 per person
All attendees will help with fundraising. PICC will provide and assist with a fundraising plan!
REGISTER HERE! Registration starts June 1, 2018 ends July 28, 2018