Member of the Month: Guadalupe Mendez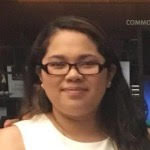 Guadalupe Mendez is a rising junior at Cabrini University and an active member of the St. Thomas Aquinas community. She aspires to become an immigration attorney and has been working with the Aquinas Center supporting advocacy and legal outreach. Guadalupe also supports the Food and Folklore afterschool program and the Green and Growing summer camp. "Being at the Aquinas Center has provided me personal and professional growth. I have been given the opportunity to grow in different aspects and I am looking forward to continuing my work with the center."
---
Public Charge: A New Threat to Immigrant Families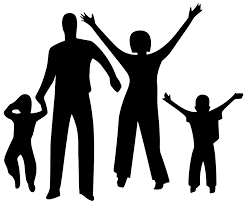 The Department of Homeland Security has drafted new rules redefining "public charge" policies. The "public charge" test has been part of federal immigration law for decades. It is designed to identify people who may depend on government benefits as their main source of support. If the government determines someone is likely to become a "public charge," the government can deny admission to the U.S. or refuse an application for lawful permanent residency (green card). The White House is currently reviewing a proposal that would change longstanding "public charge" policy potentially forcing immigrant families to make an impossible choice between meeting basic needs and keeping their families together in this country. If finalized, the proposal by the Trump Administration would take us closer to a country whose doors are closed to countless families seeking a better life and open only to the highest bidder. This proposal would also jeopardize the health and wellbeing of millions of children as many taxpaying immigrant parents have U.S. citizen children who are eligible for programs like health care and food assistance. The proposal would discourage families from accessing programs that support these essential needs.
IF YOU WORK WITH IMMIGRANT FAMILIES
The rules governing public charge determinations in the U.S. have not yet changed. There is no need for families to disenroll from programs for now. The leaked drafts of the rule makes it clear that any changes will only apply to benefits recieved after the rule is final.
Some immigrant groups are not subject to"public charge." Some groups of immigrants—such as refugees, asylees, those fleeing domestic violence, and other groups—are not subject to "public charge" determinations and will not be affected by this rule change.
Educate yourself further about what this proposed rule would, and would not, do.
Learn how changes to "public charge" are being applied in embassies and consulates.
WHAT YOU CAN DO
Once the proposed rule is published in the Federal Register, the public will have an opportunity to submit comments and stories about how this rule will harm immigrant families and their communities. Start collecting those stories now!
Have your organization sign-on to the national statement opposing the rule change.
Contact your member of Congress and urge them to speak out against this rule.
Get involved with the Protecting Immigrant Families campaign
PICC and Community Legal Services (CLS) will be monitoring developments and passing along sample comment templates as soon as the rule change is announced.
---
Enforcement Resistance Initiative Launches!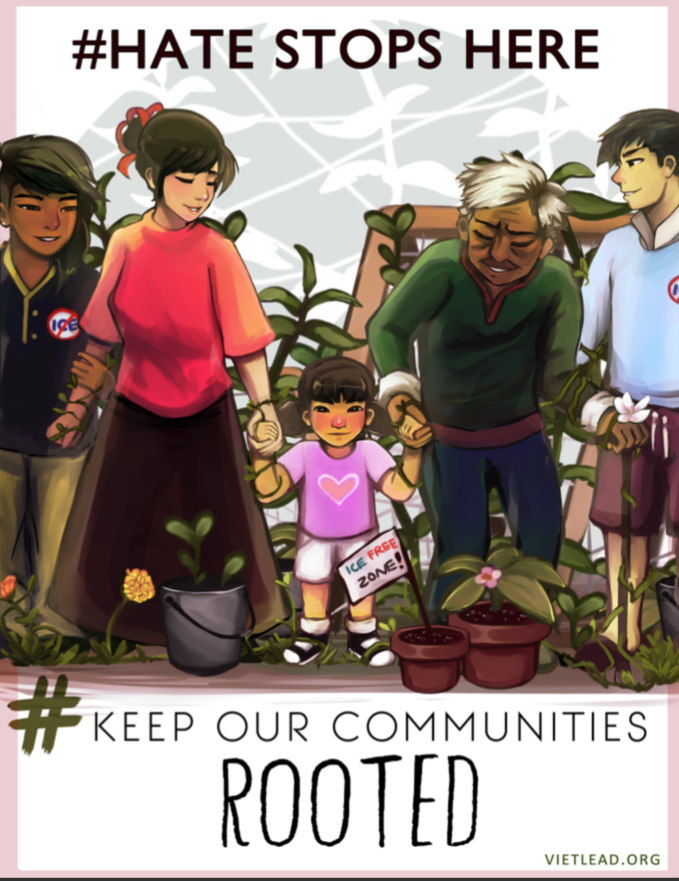 In the last 18 months, the Trump Administration has unleashed non-stop attacks on immigrant and refugee communities -- separating families at the border, severely limiting refugee resettlement, and ending programs like DACA and TPS. In response, members of PA is Ready! came together to strategize about how community based groups and legal service organizations could work together to fight back against the increased enforcement and policies that are harming immigrant communities. Out of these conversations, the Enforcement Resistance Initative was born - and as part of the 2018 grantmaking process, PA is Ready! is providing funding to six community-based organizations and four legal service organizations to work and learn together to build and implement coordinated community-based responses to create safer communities and stop unjust deportations and detentions. In June, community groups attended instensive 2-day trainings with Juntos, to learn about the Community Resistance Model, and legal services providers attended a day-long CLE hosted by the Free Migration Project on how to support strategic public case campaigns that highlight injustices in the immigration system.
Community groups are now beginning to implement their projects! VietLead, a community organization focused on organizing the Vietnamese and Southeast Asian Community in Philadelphia, has spent the last few weeks door knocking, calling communitiy members, and attending local events to educate their neighbors and communities about their rights and how to take action to stop the targeting of immigrant communities. In the coming weeks, Casa San Jose in Pittsburg will launch its own Community Resistance Zone project, and Church World Service in Lancaster will begin hosting house parties with community members to learn their rights and understand their legal options. The rest of the community partners, Asian Americans United, CATA, and Movement of Immigrant Leaders in PA, will begin implementing their projects soon after. PICC is proud to continue to support our organizational members and PA is Ready! partners as they continue to organize to build safer and more empowered immigrant and refugee communities across Pennsylvania.
---
PICC is Hiring in Pittsburgh!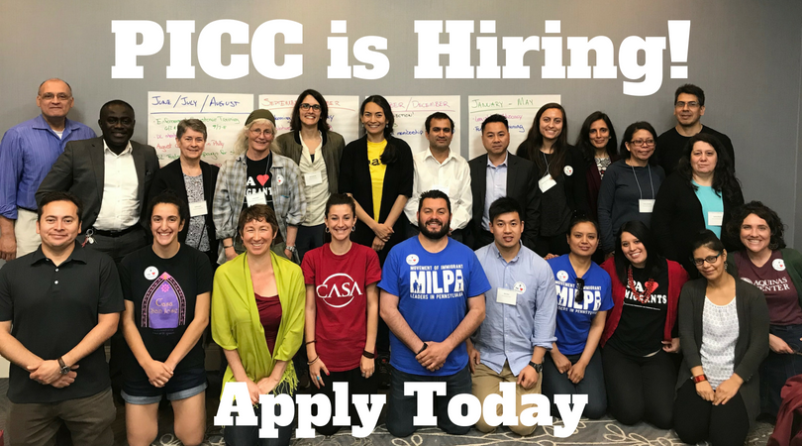 We are hiring a full-time staff member based in Pittsburgh! The Western PA Program Staff will be responsible for moving forward PICC's Capacity Building Program and advocacy work in Allegheny County and beyond. Through our Capacity Building Program, PICC aims to develop the skills and capacity of our member organizations, community leaders, and allies to advance immigrant rights. This includes coordinating workshops and trainings in partnership with local grassroots partners and developing community education materials. The Program Staff will also support ongoing advocacy efforts; cultivate long-term relationships with partner and member organizations; and identify new strategic partnerships. Please pass this along to your networks!
Upcoming Events
Shut Down Berks Takes the Capitol
Mon. Aug 20, 12:00pm-2:00 pm
State Capitol Building, Harrisburg, PA
Join Pennsylvanians from across the state on August 20th as we mobilize and rally in the Capitol rotunda. Speak truth to power directly to the Governor's office and demand they put an end to immigrant family detention in PA by issuing an Emergency Removal Order on the Berks County Detention Center. Sign up to hop on a bus or offer/share a carpool.
RSVP and more info on Facebook.
Summer Community Navigator Series
Aug.29 to Sep.8
PICC will be hosting a series of Navigator trainings in Philadelphia from August 29 to September 8th. Participants will be trained to: Conduct public information sessions; Lead workshops on Know Your Rights and Deportation Defense; Collaborate with families to complete Deportation Defense Packets; Organize legal clinics to provide comprehensive screening and naturalization assistance with attorneys and/or DOJ accredited representatives present.
Register now! Participants can attend one or all six sessions. Those wishing to become PICC Certified Community Navigators must complete all six workshops. Interpretation and childcare are available upon request for all sessions. To learn more about the individual workshops, visit our website.
#StoptheHate Educational Webinars – September
Fri Sep 7, 12:00pm - 1:00pm
Join activists from around the state who are working to stop all anti-immigrant legislation in PA and to pass pro-immigrant policies at the municipal and state levels. Every call we will have an in-depth presentation on a different topic or campaign. Topic: Civic Engagement & How You Can Get Involved
Please register to receive information on how to join the webinar.