Member of the Month: PICC Youth Organizing Project
Starting in 2014, PICC has led a statewide youth organizing project to engage immigrant and refugee youth and children of immigrants in the movement for immigrant rights in Pennsylvania. We provide access to resources, trainings, webinars, and other spaces where youth can connect, learn, and strategize together on issues that impact their community. They also have the opportunity to develop new connections and leadership skills. Each year, youth leaders and partners plan and host a summer Youth Leadership Convening that brings together 30+ youth from across PA for a weekend of leadership development, community organizing, networking, and making friends. If you are interested in joining PICC's youth organizing work please contact Maria Sotomayor at mariasotomyor@paimmigrant.org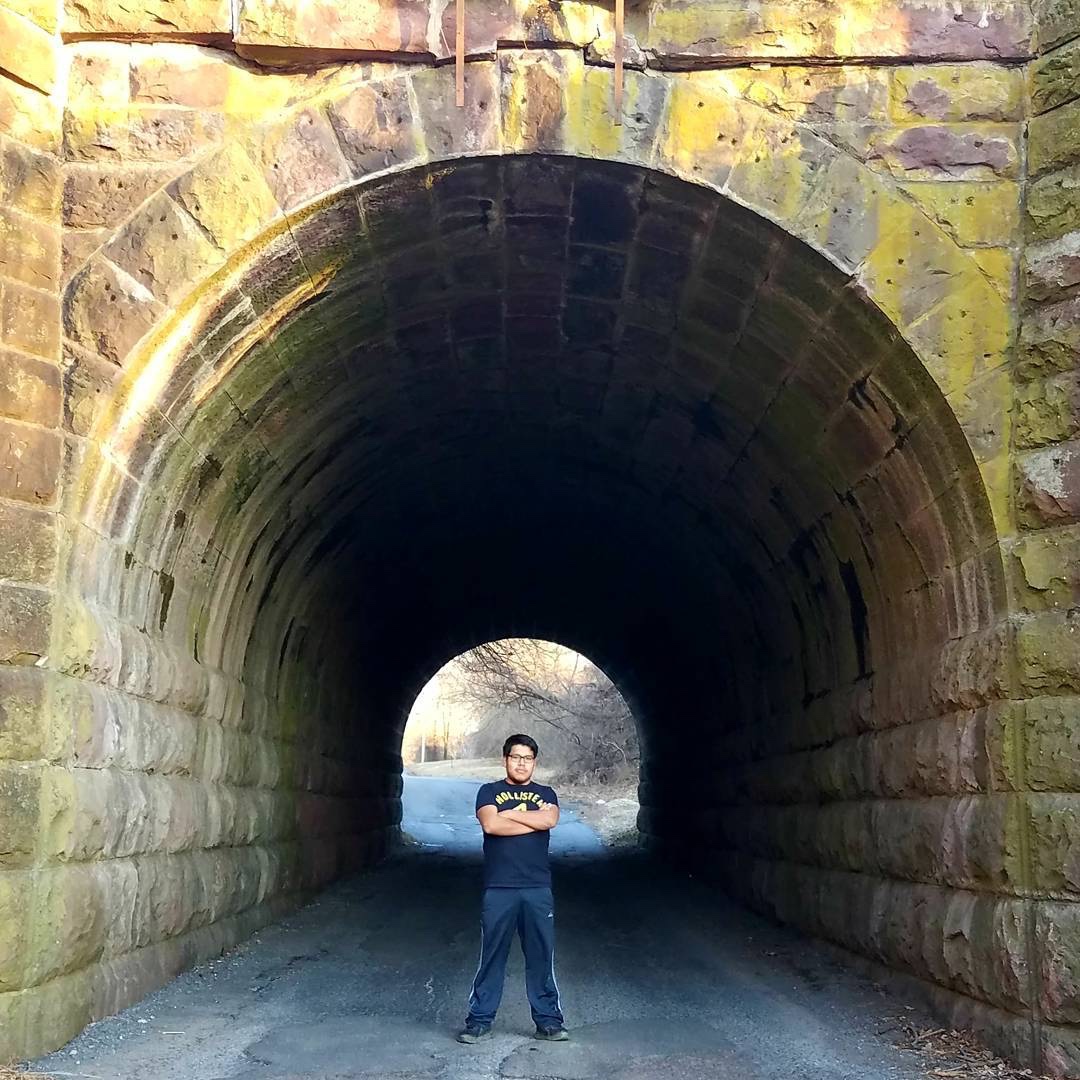 George is a member of PICC's youth organizing leadership. We met him in 2015 when we worked with Defacto Americans Support group in Reading, PA. He got more involved with PICC in 2016 when he attended his first statewide Immigrant & Refugee Youth Convening, he has attended and helped organize it for the past 3 years. "I enjoyed the convening; it helped me meet new people. I loved seeing how everyone got inspired by what we learned and our conversations. One of my favorite memories from that convening is helping cook with other people, getting to know them and also being able to help out young people that were shy and letting them know they are not alone." George has been able to use the skills he gained through convenings, trainings , youth meetings and calls to help him grow personally and support his community "getting involved helps me with my social skills, being less shy, have more confidence and helps me feel safer knowing about my rights."
He volunteers with local organizations like Make the Road PA and GRIP in Reading PA, he is also a full time student and hopes to obtain his degree in engineering in the next few years. He wants to use his career to build and give back to his community. When he is not at school or volunteering, he is working in the agriculture field at a mushroom farm. "I like working there, teaching people about the process of planting, growing and picking mushrooms, and I really like my coworkers, some are older and give me life advice. One thing I took from the convening and other trainings is the information about our rights. I shared this information with my coworkers, gave them the KYR's card, told them to call the number if anything happens, be ready and reach out to a trusted lawyer. This information has been helpful and makes my coworkers feel safer while they are at work and with their families." George is currently working with other youth leaders to develop a youth membership structure for PICC. We are very proud of his accomplishments and very lucky to work on this together!
---
Refugee Cap Cut to a Record Low
In another effort to dismantle the U.S. Refugee Resettlement Program, the Trump administration has announced a plan to accept a maximum of 30,000 refugees for the next fiscal year. This is a record low for the United States and a blow to the estimated 25 million refugees around the world fleeing violence and persecution. This is also a drastic cut to the administration's already stringent 2018 cap of 45,000 refugees. Despite this horrific announcement, there are still opportunities for advocacy. The White House is legally mandated to consult with Congress before setting a number to refugee admissions. While the timeframe for this process is still not set, Congress can still challenge this cap. Our community values refugees and we need to fight for their protection.
What you can do:
Educate Yourself: Download the Rapid Response Toolkit from Church World Service for five ways to take action against this devastating decision.
Call PA Senators: The #Welcome75 Toolkit provides a script for calling PA senators and representativess: Bob Casey (202) 224-6324 • Pat Toomey (202) 224-4254
Use Social Media: Our partners at HIAS PA suggest this tweet for a quick response to express your concerns: .@SenBobCasey @SenToomey Tell the White House to welcome at least 75,000 #refugees in fiscal year 2019, not 30,000. #Welcome75k #RefugeesWelcome #WeAreAllAmerica
---
PICC Updates
September's Community Navigators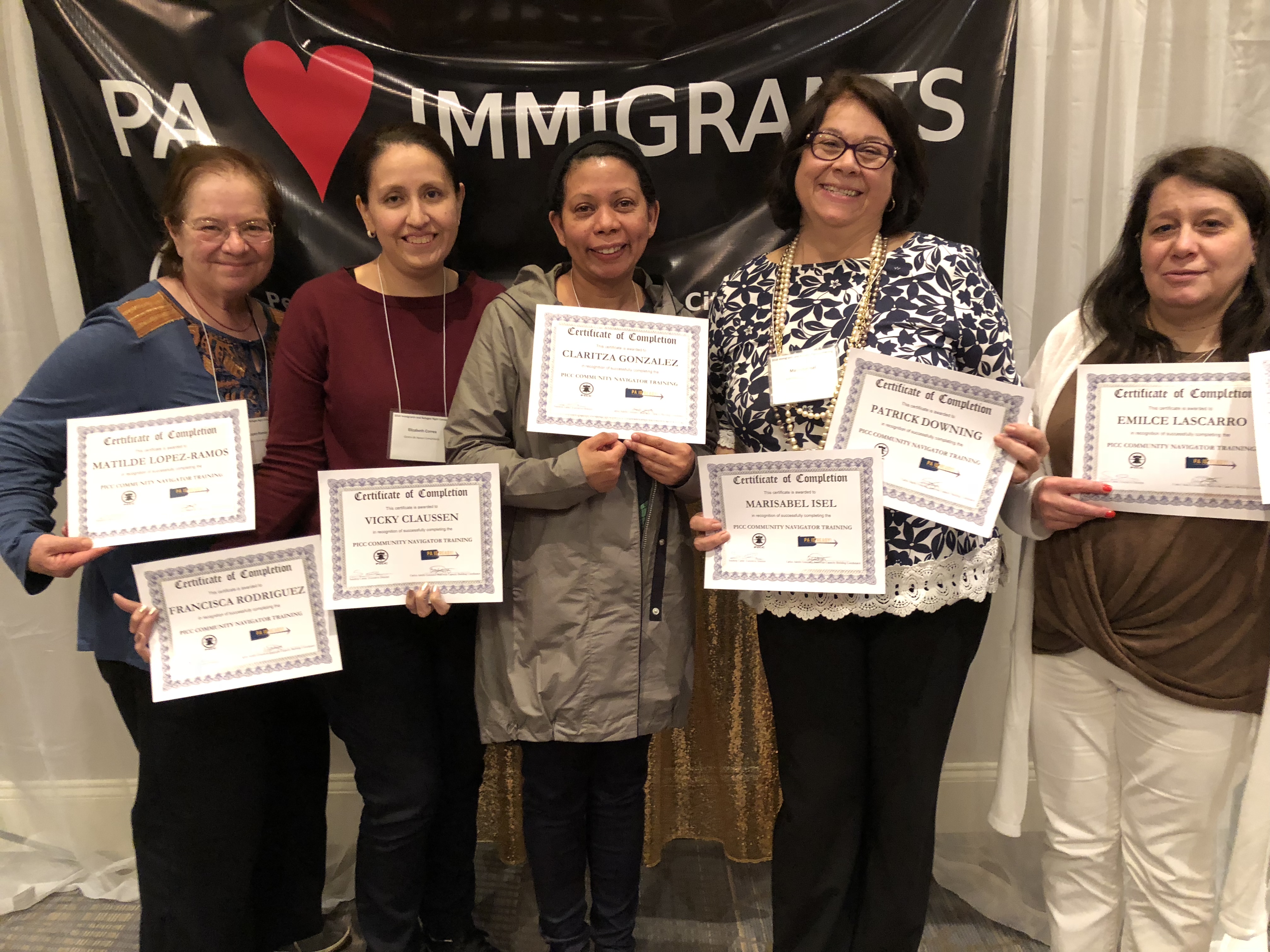 Across Pennsylvania, immigrant and refugee communities face challenges accessing quality immigration services. PICC's Community Navigator Training Program is designed to equip participants with the knowledge and skills to assist with a variety of immigration services, including comprehensive legal screenings, citizenship applications, and deportation defense packets. As trained community leaders, Community Navigators are able to provide quality information, and work with attorneys and accredited representatives to organize community-based legal clinics and information sessions to ensure that their communities are able to get the information and assistance they need. 38 community leaders and allies attended the summer Community Navigator series, with 13 invidivuduals completeing all six modules. Sue-Ann DiVito, a leader with the Immigrant Rights Action Group of Doylestown, reflected, "PICC community navigator training was interactive and informative. The material was easy to digest, and delivered by engaging experienced professionals. I highly recommend this training for immigration advocates." Our next Community Navigator Training Series will be held in Lancaster from November 7th to November 17th, 2018. Trainings are free. Register now!
Welcoming Schools Campaign
Student/Parent Surveys and Presentations This fall, PICC is launching student and parent surveys across PA to better understand the needs of immigrant and refugee families in the education and immigration system. This survey will help us continue to respond to the needs of students and parents, and develop resources like the Welcoming Schools Toolkit. The survey will be distributed across schools in PA during information sessions; back to school nights and other school events, to our partners, parent and student groups, and will be available online. At the end of the year we will create a report with policy recommendations about how to best support the immigrant and refugee community in schools. If you are interested in hosting a session for students, parents or organization please fill out our Education Speaking Request form. For more information to be included in the sessions and fall survey efforts, please contact Carly at piccintern@paimmigrant.org or 215-832-3482.
---
Welcome Kim!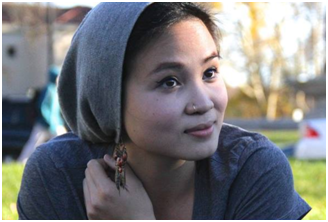 We are excited to introduce PICC's newest team member! Kim Dinh is PICC's Western PA Program Staff based at the Global Switchboard in Pittsburgh. Born in Vietnam and immigrating to the US with their family in high school, Kim's commitment to immigrant justice is rooted in fighting for workers' rights, building capacity to organize in immigrant communities, and solidarity work. Kim approaches organizing through building impactful relationships and uplifting immigrant leaders. Before coming to PICC, Kim worked at the Thomas Merton Center, a social justice non-profit in Pittsburgh. Kim has worked on and supported a variety of campaigns ranging from wage theft to transit policing. Kim is also an organizer supporting Asian and Pacific Islander worker and immigrant rights, and is currently involved in efforts to build a local chapter of the Asian Pacific American Labor Alliance (APALA) in Pittsburgh. Kim holds a B.S in Biological Sciences from the University of Pittsburgh.
#StoptheHate Monthly Educational Webinars – October
Fri Oct 5, 12:00pm - 1:00pm
Join activists from around the state who are working to stop all anti-immigrant legislation in PA and to pass pro-immigrant policies at the municipal and state levels.
Presenter: Anne Martin Montgomery, Adoptee Rights Campaign
Please register to receive the information to join the calls.
Youth-Only Monthly Call (ages 14-25)
October 10, 2018, 7:30-8:30 PM.
All immigrant and refugee youth are invited to join our Monthly Youth Calls the second Wednesday of every month at 7:30 pm. Register for the next call.
Beyond the Courtroom: Public Deportation Defense Campaigns (Philadelphia)
Fri Oct 12, 9:00am - 12:15pm
Learn how legal and community pressure strategies can elevate a removal case into a deportation defense campaign, including best practices and ethical considerations for collaborating with community partners. All lawyers and community members are invited to participate. CLE 3.0 hours (including 1.0 ethics)
Presented by David Bennion, Executive Director of the Free Migration Project.
There is a $30.00 registration fee. Register today!
Civics & Advocacy Training/Taller de Cívica y Abogacía (Pittsburgh)
Sat Oct 27, 9:00am - 1:00pm
As part of our ongoing efforts to strengthen the capacity of immigrant leaders to advocate for the needs of their communities, PICC will be holding a U.S. Civics and Advocacy Training. Participants will learn about: The structure of the different levels of government in the United States; The process for passing policies, local ordinances and legislation in Pennsylvania; Conducting an effective advocacy meeting with their elected representatives.
Lunch will be provided. Language interpretation and childcare available upon request. Registration is required.
Como parte de nuestros esfuerzos para fortalecer la capacidad de los líderes inmigrantes, PICC llevará a cabo un taller sobre cívica y abogacía. Los participantes aprenderán sobre: La estructura de los diferentes niveles del gobierno en los Estados Unidos; El proceso para aprobar políticas, ordenanzas locales y legislación en Pensilvania; Llevar a cabo una efectiva reunión con sus representantes electos.
El almuerzo será proporcionado. Interpretación de idiomas y cuidado de niños disponibles bajo petición. Registro es obligatorio.