Very reassuring and encouraging. Sometimes it feels like you're alone in your battles. It's empowering to see people who are also fighting those same battles, and doing something about it to overcome them. It was a great collection of different people, stories, and perspectives. Everyone was family." Carid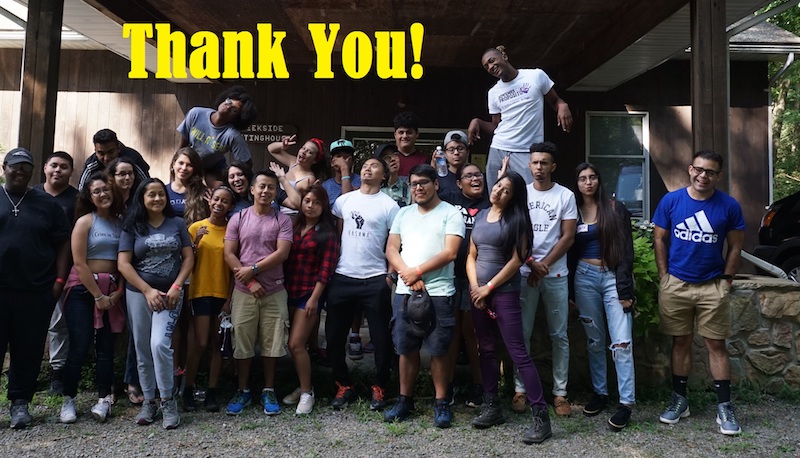 Congratulations to another group of fierce youth leaders for completing our intensive leadership and organizing weekend. On Aug 4-6, 2017 26 immigrant, refugee and children of immigrants youth came together for a weekend of community building, organizing and leadership development. Here is a recap of what our youth experienced:
---
Workshops- Saturday Aug 5, 2017
Organizing and Advocacy Training
Hosted by PICC's Statewide Capacity Building Coordinator, Carlos Gonzalez
Our participants learned about Organizing 101 and Advocacy and put their knowledge to the test by visiting "Joe Gone" an anti-immigrant politician. While some youth leaders were having a conversation with the politician, the rest of the group was leading an organized community led action outside his office.

Story of Self
Hosted by Paula Beltran from Planned Parenthood and Amaya Pavon leader from Coalicion Fortaleza Latina
Our youth leaders learned about the power of their personal stories, specially after Paula and Amaya shared their experiences speaking to community members, legislators and in public places have helped them educate people about the immigrant community and advocate for policies locally like the Tuition Equity, Drivers license for undocumented immigrants, education access to higher education. Paula even shared how telling her story helped her and many undocumented students in Reading raise money for a local scholarship. Everybody had the chance break into small groups to practice their own stories and provide feedback. After our group came together many people felt confortable sharing which made the group feel more connected as they all realized the struggles and the reason why they decided to come to the convening.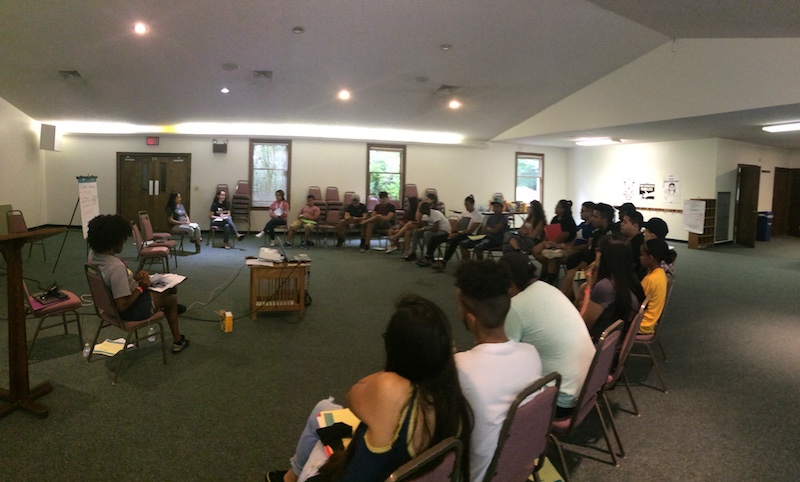 Art & Activism: Creative Writing
Hosted by our guest Caroline Kim member of Philadelphia's Sanctuary Poets
Caroline's workshop was a perfect closing for for second day. It helped all of us reflect on why we came to this convening and why we want to keep on fighting. Using poetry and writing as a way to share how we are feeling about the current polical climate, our families and identities. We were given the opportunity to read great poems by poets of color and the resistance during their own times and life events. To end the workshop we had a writting exercise of 10 minutes. Our youth got very inspired and wrote beautiful poems, some of them continued working on them throughout the evening and shared among each other.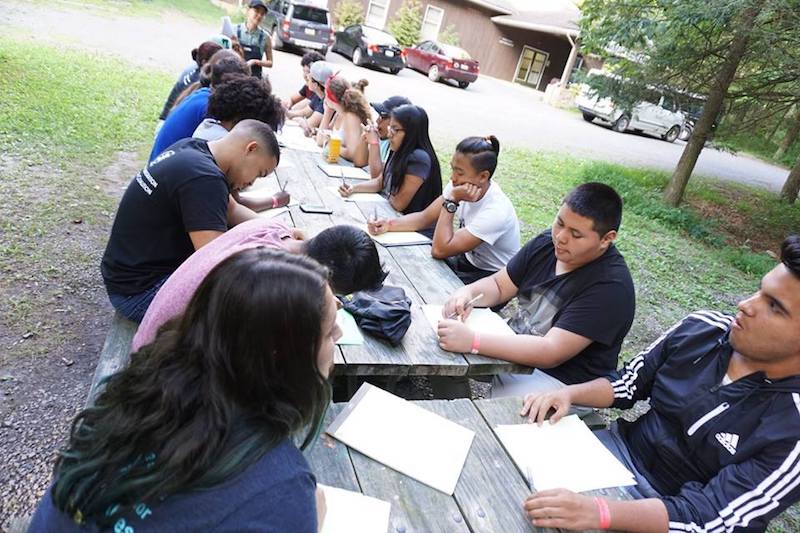 ---
Work Hard, Play Hard!
This weekend was also an opportunity for our youth to build long lasting relationships, community and to find a chance to relax. They deserved to enjoy themselves playing volleyball, games, walking in nature and spending time together around the bonfire!

"It was a great way to come together with people that I didn't really know. It's nice knowing that there's more people in the same situation as me that are close. Even the people that I came with—they live really close by but we hadn't connected until now. I met people from different places, but now they feel close. It's a great way to make friends." Rodrigo
---
Workshops- Sunday, Aug 6, 2017
Know Your Rights
Hosted by Rainy Leonor-Lake from Make the Road Pennsylvania
During this workshop youth learned what to do if the police/ICE comes to their home, work place or get pulled over while driving. Our youth had the opportunity to do role playing for each possible scenario and had a chance to practice how to respond to every situation. Everybody was given KYR's cards to keep with them at all times and instructions on how to fill out their own Deportation Defense Plan and Deportation Defense Package.

Welcoming Schools Campaign
Hosted by Maria Sotomayor and Jenaye Johnson (JJ, PICC Youth Organizer Intern)
PICC's "Welcoming Schools" campaign was created because of concerns youth brought up during last year's youth convening and after spending months having one-on-one conversations with students, parents and educators after the elections. Our Welcoming Schools Campaign Toolkit provides important information and frequently asked questions and answers for immigrant communities and educators about ICE, schools role in protecting immigrant families, advocacy information and Welcoming School policy samples. At our convening our youth had the opportunity to put together detailed plans of action and practice speaking at a school board meeting during our "Statewide School Board Meeting".
---
Thank You from Our Youth Intern JJ!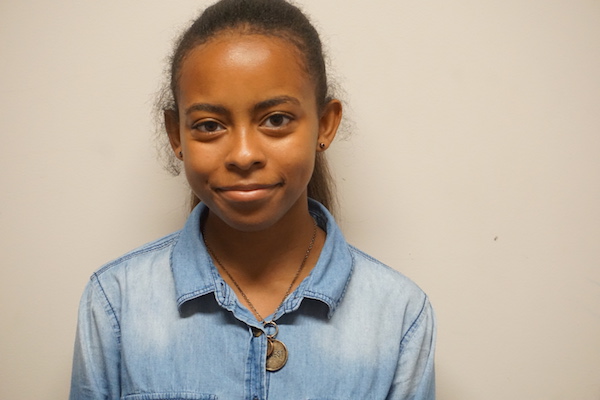 As a youth intern and member of PICC's staff, it was an honor to be part of the third annual youth convening for immigrants, refugees, and children of immigrants and refugees. Even though I'm not an immigrant myself, being offered the opportunity to come as an ally only aided in strengthening my resolve to reform this country's outlook on the immigration community.
At the convening, I was welcomed by all who participated, from the youth themselves to the organizers. Having been brought as an organizer for the Welcoming Schools workshop, I was truly filled with awe by the amount of passion and dedication our youth brought to the space. Everyone had a story to share.
Moving Forward: Youth Decision to Move Our Movement and How You Can Help:
• Help youth connect with local organizations and support new youth groups
• FIGHT BACK (Trump Era) by educating communities and students about their rights
• Shared communication, language, and commitment to combating racism and consequences of white supremacy!
• Ready to lead escalation actions to fight for our families
• Engage schools and ally students in the fight for tuition equity, drivers licenses, protections for our families, DACA defense.
• Help organize regional trainings for parents, students, community members in Philadelphia, Reading, Montgomery County, Pittsburgh
• Engage new American citizens, register and mobilize new voters. Provide education by hosting local phone banks and canvassing.
• Start fundraising more money to make our youth convening longer 3-4 days long.
What Would Help Groups Collaborate and Communicate Regionally?
• Monthly collaborative meetings to touch base on work and projects
• Constant communication and more in person gatherings and video calls
Contributions from allies and local organizations to help us connect in person regularly
Check out more pictures from our weekend!
If you are interested in getting involved with our Youth Organizing Project, please contact Maria Sotomayor at mariasotomayor@paimmigrant.org or 215-832-3482