Meet HIAS Pennsylvania!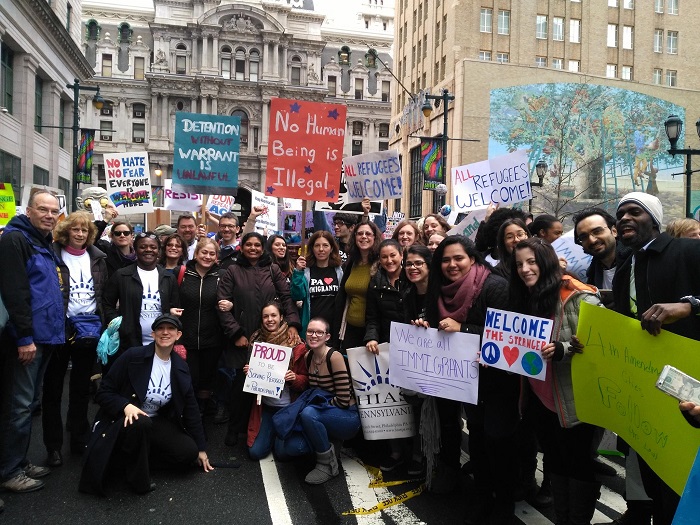 Driven by the Jewish value of "welcoming the stranger," HIAS Pennsylvania provides legal, resettlement, citizenship, and supportive services to immigrants, refugees, and asylum seekers from all backgrounds in order to ensure their fair treatment and full integration into American society. HIAS Pennsylvania's legal services program represents low-income immigrants and refugees in their immigration legal matters. We have specialized projects dedicated to working with: (1) immigrant domestic violence survivors; (2) immigrant youth; (3) asylum seekers and; (4) citizenship assistance for elderly and immigrants with disabilities.
HIAS Pennsylvania is a proud long-time member of PICC since its inception. We recognize that the only way towards fairness for all immigrants and refugees is working in coalition with community based organizations and other immigrant rights organizations. PICC provides this platform and we look forward to continuing our work together. Follow HIAS PA on Facebook, or donate to support their work!
---
Report on Dreamer's Initiative - DACA Fee Assistance
After the September announcement by the Trump administration ending Deferred Action for Childhood Arrivals (DACA), The Pennsylvania Immigration and Citizenship Coalition, in partnership with Philadelphia Councilwoman Helen Gym and The Philadelphia Foundation, created the Dreamers Initiative to assist eligible Pennsylvanians pay the $495.00 renewal fee.
The Dreamers Initiative is part of the PA is Ready! fund at The Philadelphia Foundation, the community foundation serving the Greater Philadelphia region. PA is Ready! has been active since 2015 and has already distributed more than $600,000 in awards to immigrant-serving organizations across the state. All donations given to the Dreamers Initiative through September 25th were devoted to covering DACA renewal applications fees. Any additional funds raised will be used to support PA is Ready!'s overall work providing increased access to legal assistance and "know your rights" education for immigrant families.
The Dreamers Initiative distributed funds to 50 eligible Pennsylvanians, for a total of $24,750.
---
National Immigrant Integration Conference: You're Invited!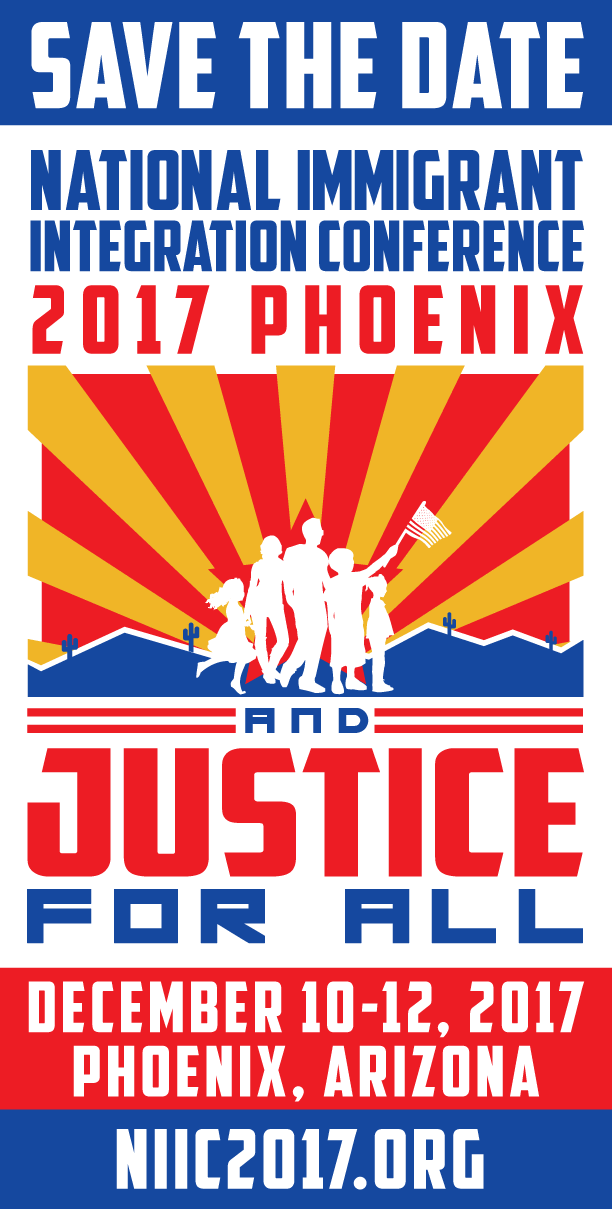 The 2017 National Immigrant Integration Conference (NIIC), the country's largest immigration conference, will take place December 10-12 in Phoenix, Arizona. This year will once again bring together over a thousand leaders from immigrant, faith, academic, labor, and business working at the local, state, and national levels. Participants will share practical strategies on family protection; on welcoming and supporting immigrants and refugees to thrive in America; on building power for an inclusive democracy; and on working towards racial and economic justice for all.
The theme for NIIC 2017 is AND JUSTICE FOR ALL because now more than ever, our communities must stand together to counter the currents of bigotry and nationalism facing our country and affirm our commitment to all of America's immigrants and refugees. America's commitment to immigrants and refugees is in a precarious state. Immigrant and refugee communities are wrestling with fear, uncertainty and threats to daily survival. Join us at NIIC to dig deep on the wide range of issues that impact immigrants and refugees -- and our whole country.
Join us in Phoenix this December 10-12 and be part of these urgent conversations: REGISTER online today. Contact Alicia Quebral if you would like to be a part of the PICC delegation!
---
Travel Ban 3.0 & Refugee Admissions
The administration has slashed refugee admissions to its lowest level since the passage of the 1980 Refugee Act. The refugee admissions ceiling will be set at just 45,000 for the 2018 fiscal year. This news came shortly after Donald Trump released a new and expanded travel ban as part of his continued anti-immigrant agenda. The new travel ban restricts most forms of immigration from seven countries indefinitely: Iran, Libya, Syria, Somalia, Yemen, Chad, and North Korea. Certain groups of people from Iraq and Venezuela will also face new restrictions. The new ban will take effect on October 18th. Trump's sweeping travel restriction was announced just as his second travel ban expired and a few weeks before the Supreme Court was scheduled to hear arguments on Trump's travel ban from six majority-Muslim countries. In light of the new ban, the Supreme Court has removed the initial case from its calendar. Read more about these policy changes.
Upcoming Events
Check out the full event calendar.
FREE Citizenship Clinic – Scranton
Thu Oct 5, 3:00pm - 5:00pm
FREE citizenship screening and naturalization application assistance for eligible immigrants in the Scranton Area.
Space is limited! Applicants will be accepted on a first-come basis. Call 215-324-0746 to reserve your spot. Hosted by United Neighborhood Centers of NE PA and Esperanza Immigration Legal Services.
#StoptheHate Bi-Weekly Call
Fri Oct 6, 12:00pm
Join activists from around the state who are working to stop all anti-immigrant legislation in PA and to pass pro-immigrant policies at the municipal and state levels. Registration is required to receive the video link and call-in information.
Navegadores Comunitarios Modulo 4: Herramienta de Elegibilidad
Fri Oct 13, 6:30pm - 8:30pm
El cuarto módulo de nuestra serie de capacitacion para navegadores comunitarios explicará sus funciones como voluntarios durante las clínicas legales y le enseñará cómo completar una herramienta elegibilidad para un cliente. Este entrenamiento será facilitado por abogados de Nationalities Service Center. Regístrese hoy.