#NoMuslimBanEver
Today, the third iteration of Trump's Muslim ban was scheduled to go into effect. The new ban has increased the number of countries facing restrictions including North Korea, Chad, and Venezuela. The Muslim and refugee bans are discriminatory, unconstitutional and inhumane in the same vein as the Chinese Exclusion Act, the Japanese American incarceration, and special registration after 9/11.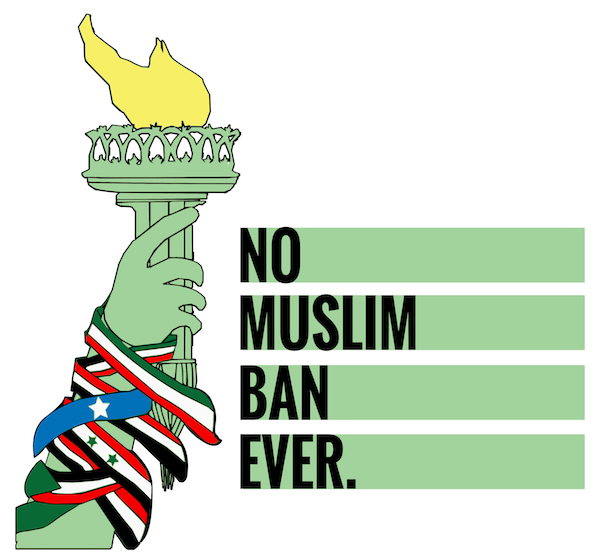 The addition of non-Muslim majority countries to the ban, namely North Korea and Venezuela, does not negate its inherent anti-Muslim intent. It also affirms the white supremacist, exclusionary policies of the Trump administration that discriminate on the basis of faith, national origin, and immigration status. See more resources about this Executive Order on the Penn State Center for Immigrants' Rights Clinic.
Yesterday, a Hawaiian court issued a Temporary Restraining Order that blocks most of the ban 3.0, arguing that it has many of the same flaws as the two previous iterations. The court rules that the ban discriminates on the basis of national origin and therefore violates the "founding principles of this Nation." However, the visa bans for North Korea and Venezuela remain intact. The 120-day ban on refugees without "bona fide relationships" is set to expire next week.
The #NoMuslimBanEver campaign is a grassroots awareness and mobilization effort. Organizers have set up a protest today in Washington, DC and communities across the country are showing solidarity with the movement by organizing their own actions. PICC stands with organizations across the country who are protesting against the administration's anti-Muslim policies. Check out www.nomuslimbanever.com to learn more about the movement.
---
#ShutDownBerks Campaign Update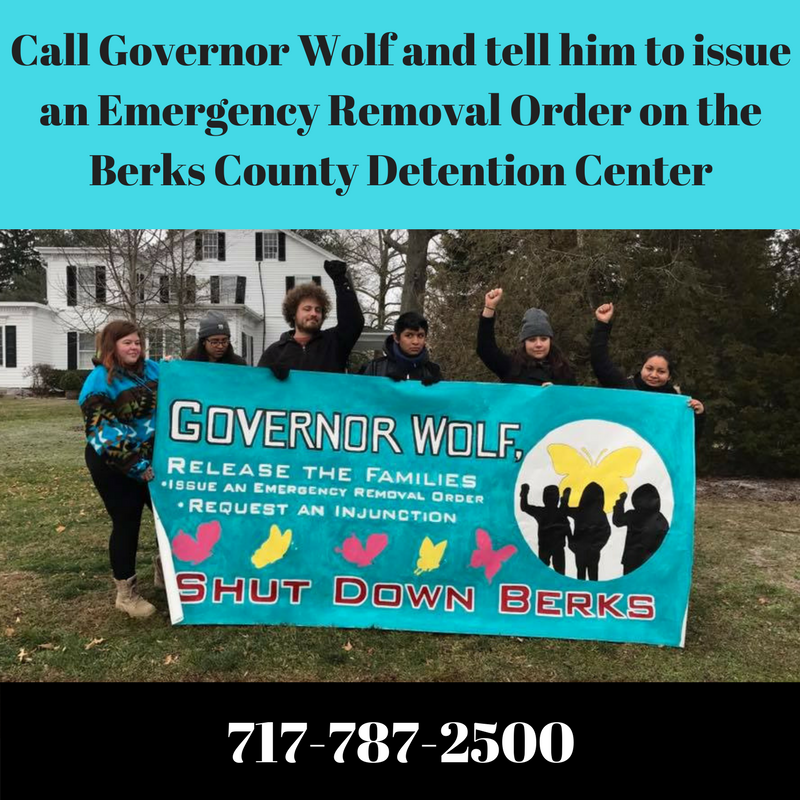 Pennsylvania is still home to the Berks County Family Detention Center (BCRC), one of three detention centers for immigrant families, where children as young as two-weeks-old have been incarcerated. In August 2015, a Federal Court determined that the practice of detaining children in jail-like settings is illegal, and ordered Immigration and Customs Enforcement (ICE) to immediately release all families held in immigrant family detention centers in Texas and Pennsylvania (see full report on federal litigation). In January 2016, the PA Department of Human Services revoked the license to operate the Berks County Family Residential Center, and that facility has been operating without a license since February 22, 2016.
Since 2014, the Shut Down Berks Coalition has repeatedly presented the Secretary of the PA Department of Human Services (PA DHS) and Governor Tom Wolf with information on the human rights violations taking place at BCRC and what actions they can take to protect and release these families (see Human Rights First reports from Aug. 2015 and Feb. 2016). Extensive legal research was presented directly to Governor Wolf one year ago outlining the specific powers that he and PA DHS has to shut down BCRC, and yet he has refused to act. The laundry list of abuses suffered by parents and children, children as young as two weeks old, has not been enough to spur anything more than minimal action.
The continued incarceration of these immigrant families and the operation of BCRC is a disgrace and a stain on our Commonwealth. It is long past time for the Governor to take action.
What Can You Do?
Call and ask the Governor to protect these families today: 717-787-2500.
Attend the #ShutDownBerks Art and Action: Wed. Oct 25 at 12 pm, Philadelphia City Hall, North Entrance
---
Members of the Month: Linda Brock & Adele Margulies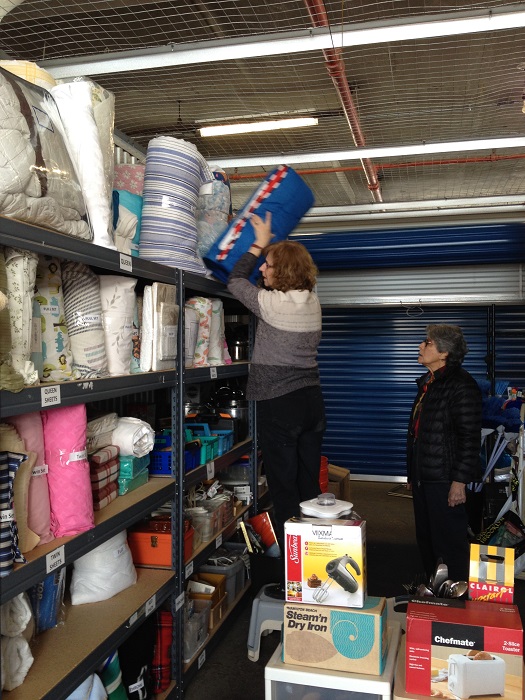 Linda Brock—administrator, committee chair for multiple organizations, mother of two—and Adele Margulies—landscape designer, mother of three—learned about HIAS PA through Main Line Reform Temple (MLRT) Sisterhood's activities. Now, they are HIAS PA's in-kind donation gurus. For the Refugee Resettlement Program, Linda and Adele acquire, manage, and organize all of HIAS PA's in-kind donations, maintain its' storage locker, and have had MLRT designated as the depository for HIAS PA's in-kind donations.
These tasks are accomplished with the help of women and Gary Brock from MLRT, and wonderful women from various other congregations. They triage items, practicing Tikkun Olam, meaning that what cannot be used by the refugees either goes to GreenDrop Charitable Donations, Sisterhood's Rummage Event, recycling, Bryn Mawr Thrift Shop, or animal rescue organizations. All of this is could not be accomplished without the continued support of MLRT's congregation, and the invaluable assistance of MLRT's custodial staff. Since 2008 their in-kind donation efforts have saved the refugees approximately $513,000 in furnishing their new apartments.
Follow HIAS PA on Facebook, or donate to support their work!
---
We Are One Action Fair Benefitting PICC!
On Saturday November 4, over 22 organizations will come together to share information, recruit volunteers and raise funds. Come to the We Are One Action Fair to make a difference in Montgomery County. Join us for food, fun and community!
Where: Reformed Church of the Ascension 1700 West Main Street Norristown, PA 19403
When: Saturday November 4th
What: Make Montgomery County a welcoming place for everyone
Action Fair: 10am-2pm
5k/2k proceeds will benefit PICC. Thank you so much to all of our allies in Montgomery County!
Upcoming Events
Check out the full event calendar.
#StoptheHate Bi-Weekly Call
Fri Oct 20, 12:00pm
Join activists from around the state who are working to stop all anti-immigrant legislation in PA and to pass pro-immigrant policies at the municipal and state levels. Every call we will have an in-depth presentation on a different topic or campaign. This week's topic is "dispelling myths about the undocumented community."
Registration is required to receive the video link and call-in information.
Art and Action to #ShutDownBerks
Wed Oct 25, 12:00pm
Philadelphia City Hall, North Entrance
Hosted by the ShutDownBerks Campaign
Join members of the #ShutDownBerks campaign and artist Michelle Angela Ortiz to honor the families incarcerated at the Berks Family Detention Center and call on Governor Wolf and PA DHS Commissioner Miller to issue an ERO and shut down the facility
Reunion Comunitaria/ Community Meeting
Wed Oct 25, 6:00pm - 7:30pm
United Church of Christ, 1805 Tonopah St. Pittsburgh, PA 15216
Hosted by Casa San Jose
Nuestra segunda reunion comunitaria!
Evento gratis, todos son bienvenidos!
Multicultural Community Orientation
Fri Nov 3, 10:00am - 11:30am
Fellowship Hall of the Market Square Presbyterian Church, 21 South River Street, Harrisburg, PA 17101
Hosted by International Service Center
In an effort to increase the awareness of the various community representatives and Language Consultants regarding the mission and services of the Office for Civil Rights of the U.S. Department of Health & Human Services, the International Service Center is organizing a Multicultural Community Orientation on Friday, November 3, 2017 from 10:00am to 11:30am.
We Are One Action Fair/Run For Immigrant Rights
Sat Nov 4, 8:00am
1700 W. Main St. Norristown, PA
Organized by We Are One Resist Hate
Our civil rights are in jeopardy. Support your favorite cause and those that impact your neighbors and friends. Come and learn about, make a donation to, or sign up to volunteer with these great organizations doing important work in Montgomery county. Come for the food, stay for the cause!
Proceeds from the 5k run/2k walk will benefit PICC! Facebook event here.