#Protect TPS - Policy Updates and Action Steps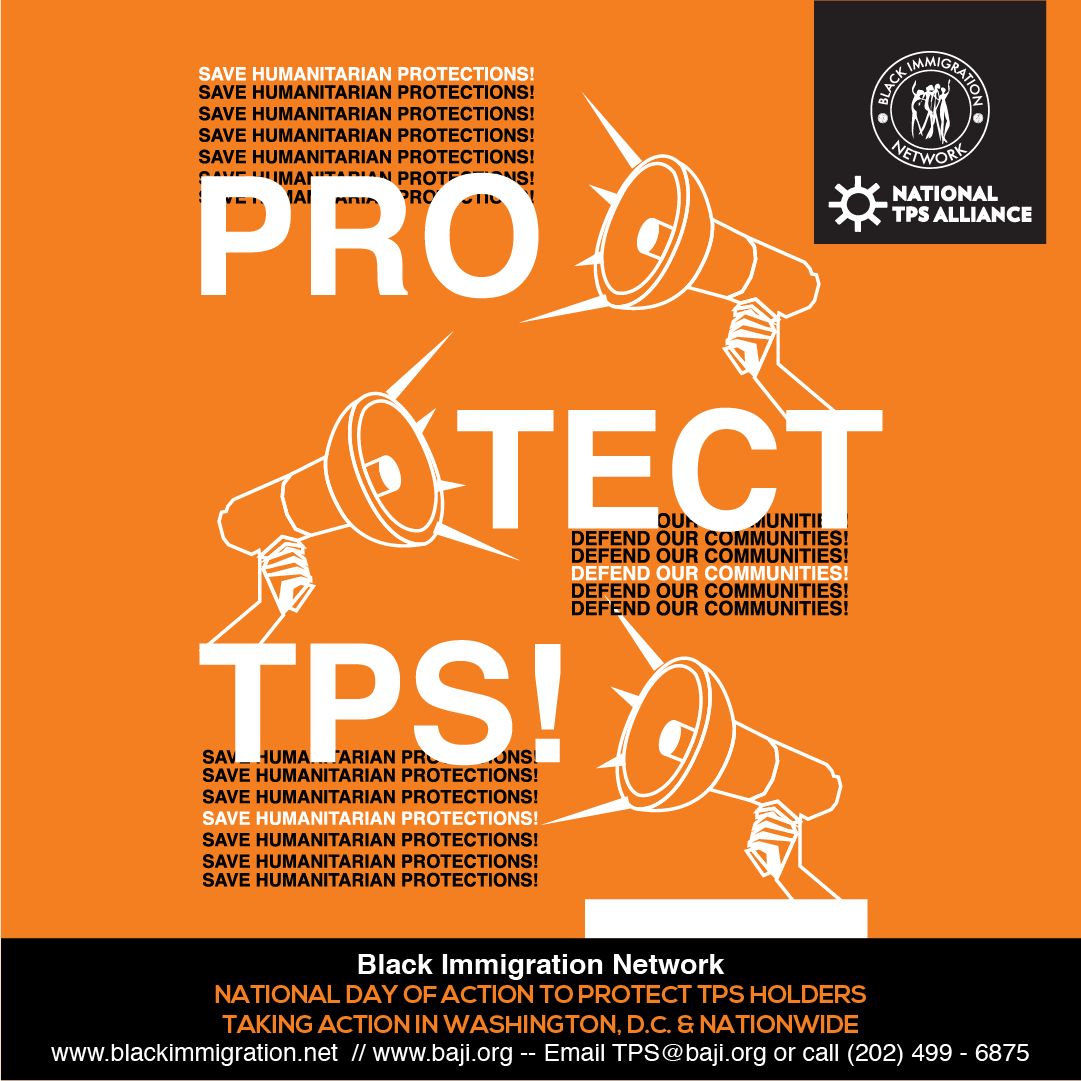 Last week the Trump administration revoked the Temporary Protected Status (TPS) designation for Nicaraguans, giving them 14 months to leave the country, and extended TPS for Hondurans for 6 months. The administration will next decide the fate of Salvandorans and Haitians whose TPS expires early in 2018. TPS is an immigration designation granted to immigrants who are unable to return to their countries of origin because of ongoing armed conflict, an environmental disaster, an epidemic, or any other extraordinary and temporary conditions. Once someone's TPS expires, they become undocumented and subject to deportation.
TPS for Haiti ends on January 22, 2018, and status for El Salvador ends on March 9, 2018. Federal officials are required to make an announcement 60 days prior to a TPS designation expiring about their decision, otherwise, the TPS will be extended automatically for 6 months.
Currently there are two bills relating to TPS introduced in the House: H.R. 4184 Extending Status Protection for Eligible Refugees (ESPERER) Act, would apply to Honduras, Necaragua, El Salvador, and Haiti and would allow people from these countries who were granted TPS to adjust their status; and H.R. 4253 The American Promise Act (APA) would allow TPS holders from any country to adjust their status.
Join us this Friday, Nov. 17th on our #StoptheHate call for a discussion on the context of TPS and the potential repurcussions of ending the program. You must register to join.
---
2017 Election Update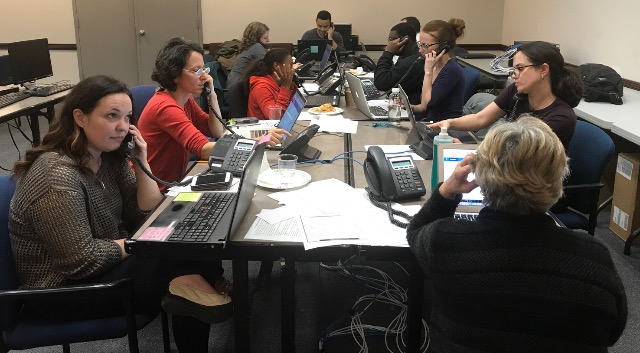 Last week, Americans across the country went to the polls to elect judges, municipal representatives, state assembly members, and other public offices. As part of a statewide civic engagement coalition, PICC coordinated nonpartisan phone banks focusing on increasing turnout in Asian and Pacific Islander communities. PICC hosted two phone banks in our office in Philadelphia and the Bhutanese Community Association of Pittsburg (BCAP) organized one in Pittsburgh leading up to Election Day on November 7th.
Together, we called 900 New American voters and spoke to over 200 of them! Recognizing that voting can be an intimidating process for many New Americans, BCAP produced a video in Nepali explaining how the local voting machines work. PICC was happy to be able to support this important educational effort to ensure that everyone has the information they need to vote! We want to thank BCAP and all our volunteers in Philadelphia for dedicating time to make sure New Americans had the information and documentation necessary to vote for the first time last week.
---
Help Send PA Leaders to the 2017 National Immigrant Integration Conference!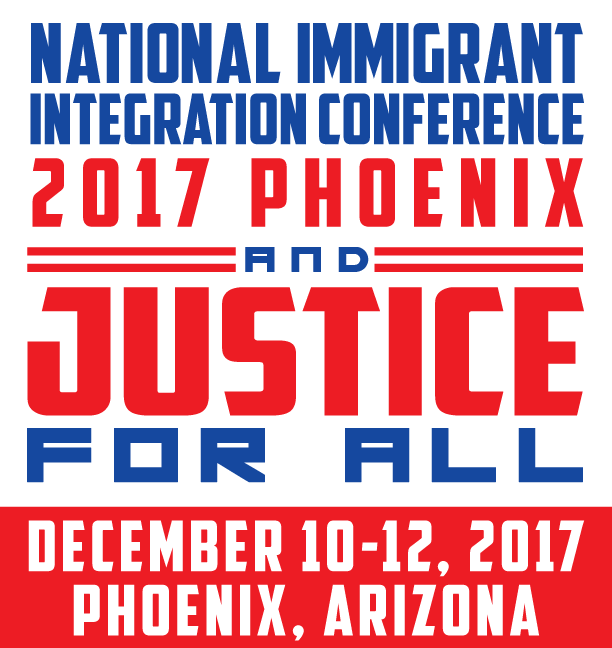 We are excited to announce that PICC is sending 13 of our talented and committed immigrant leaders and allies to the annual National Immigrant Integration Conference (NIIC)! The NIIC is the largest national conference focusing on immigrant and refugee communities. This year, NIIC sessions will focus on learning from our experiences and challenges in the first year of the new administration - from the increased presence of ICE in our communities to the cancellation of DACA.
To support the travel and registration costs of our cohort, we are looking to raise $10,000 by November 20, 2017, which includes $5,000 of funds that PICC will match for individuals and organizations attending. We need your help to raise the additional $5,000.
We were lucky enough to send 9 people to the 2016 NIIC, with glowing reports from the attendees. This year we have the opportunity to further strengthen our Community Navigator program, and the leadership of immigrant communities across the state by once again sending a cohort of leaders from diverse backgrounds and geographies!
You can donate online or if you would like to write a check, you may send it to: PICC, 2100 Arch St. 4th Floor, Philadelphia, PA 19103 with the designation "NIIC 2017" in the memo line. If you have questions, please feel free to reach out to Alicia Quebral, who is coordinating our NIIC group this year, at aliciaquebral@paimmigrant.org or (412) 387-7422.
---
Upcoming Events
See our website for many more!
Immigration Walk-In Clinic/Clinica de Inmigracion – Gettysburg, PA
Thu Nov 16, 6:00pm - 8:00pm
Casa de la Cultura will be assisting community members with immigration legal screenings, and an appointment with attorneys to answer questions and assist with completion of a Family Preparedness Plan in case of Emergency. If you are unavailable in the evening, call 717-339-6783 to schedule a daytime appointment.
Casa de la Cultura asistirá a los miembros de la comunidad con proveer preselección para alivio migratorio y una cita con un abogado seguirá para esponder preguntas y asistir en completar un Plan de Preparación Familiar en Caso de Emergencia. Si no está disponible por la noche, llame al 717-339-6783 para programar una cita de día.
#StoptheHate Bi-Weekly Call
Fri Nov 17 12:00pm
Join activists from around the state who are working to stop all anti-immigrant legislation in PA and to pass pro-immigrant policies at the municipal and state levels. Every call we will have an in-depth presentation on a different topic or campaign.
This week's topic: Temporary Protected Status (TPS)
Registration is required to receive the video link and call-in information.
Clínica de Inmigración / Immigration Screening Clinic – Upper Darby
Sun Nov 19 9:30am

Sótano de la Iglesia San Lorenzo (St. Laurence Church), 8245 W. Chester Pike, Upper Darby

Taller informativo de paquetes de defensa contra la deportación. Información sobre renocación de ITINs. Información sobre otros alivios migratorios como visa T, visa U, y estatus de protección temporal (TPS), residencia permanente, y ciudadanía.

Para más información llame a Centro de Apoyo Comunitario, 610-713-5954.

This session is targeted for the Spanish Speaking community, but no one will be turned away because of language.