Member of the Month: FURIA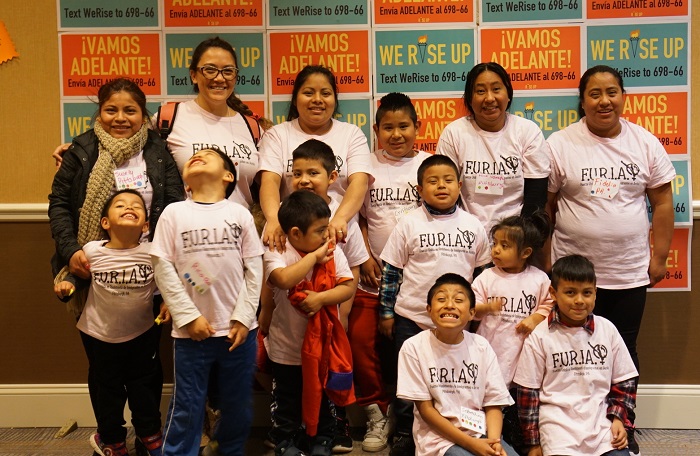 Furia (Fuerza Unida en Resistencia de Inmigrantes en Acción) began in 2016, after the presidential election. It was formed by immigrant women in Pittsburgh because many husbands had been or could be deported. The woman feared being left alone to raise and take care of their children. Furia woman believe in the importance of the immigrant voice and are making sure they are not silenced by this administration. "We want our voice to be heard, and taken seriously. We are mothers, workers and members of the community." Furia is made up of 12 members from Latino America. They represent the immigrant community in Pittsburgh and are currently working on the campaign to make Pittsburgh a Sanctuary City. In the last year, the group hosted weekly meetings at a member's house for other immigrant women to join, hosted two marches to fight against deportations and participated in the Day without Immigrants and Labor Day march. They also joined hundreds of people in D.C on September 5 where they represented Pennsylvania and met organizations fighting for immigrant justice across the country. FURIA became a member of PICC this summer. They joined because they want to become a stronger group and be connected to the statewide movement. They attended PICC's Statewide Convening and Advocacy Day in 2017 and are planning to return to other events. Follow FURIA on Facebook.
---
It is Time for a #CleanDreamAct and to #SaveTPS!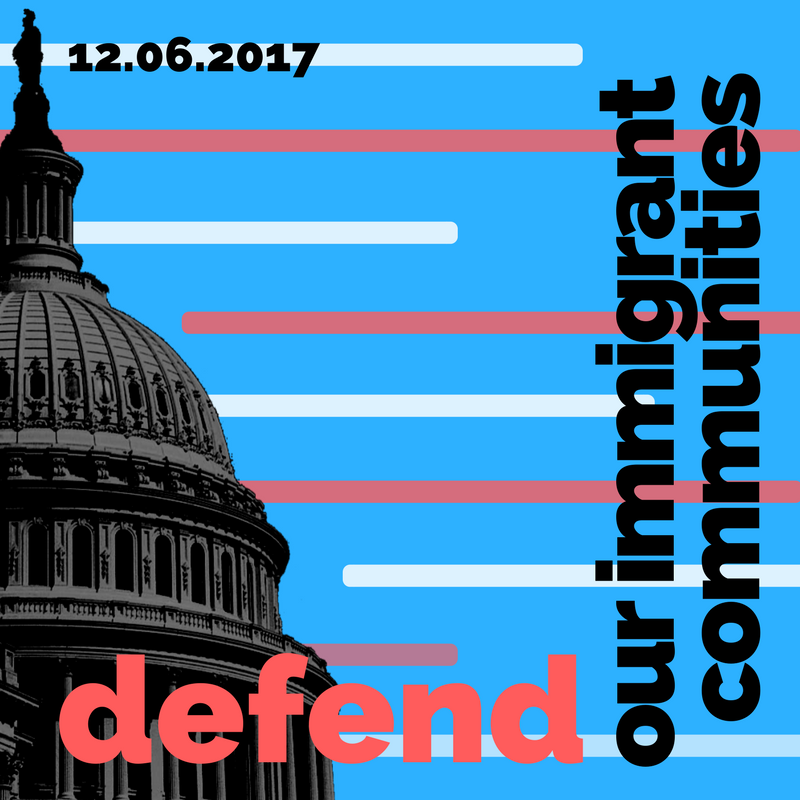 Today, thousands of immigrants and allies are gathering in Washington D.C. to call on Congress to pass a clean Dream Act and permanent residency for Temporary Protected Status (TPS) holders.
Immigrant communities have faced a series of attacks and setbacks this year, including the termination of DACA and TPS for Haitians and Nicaraguans. Tens of thousands of other TPS holders face uncertainty as the renewal deadlines loom. Congress can pass the Dream Act for immigrant youth and a solution for the 300,000 TPS holders who have long made America their home.
Every day, over 100 young people are losing their ability to work and protection from deportation as their DACA status expires, and those with TPS are facing the unthinkable decision of whether to leave behind their families and communities.
It is past time for Congress to act and provide a permanent legislation pathway to legal status for young undocumented immigrants and TPS holders. Show your support for the thousands marching in DC today and call your Congressional Representative! Univision has launched an easy tool to contact Congress in English and Spanish. Call today and tell them we need a #DreamActNow and to #SaveTPS!
---
Welcome to Our New Civic Engagement Intern!
"My name is Carid-Arbin A. Maranan, and my over-all, encompassing goal in life is to become the best version of myself and inspire others to do the same. In addition to being the Civic Engagement Intern at the Pennsylvania Immigrant and Citizenship Coalition, I am also the Youth Entrepreneurship Project (YEP program) Coordinator at the Aquinas Center. The program takes the goals of building unity and diversity, supporting learning, as well as inspiring thoughtful action, and combines it with the entrepreneurial spirit and economic justice from the perspective of young leaders. I fit in well in these positions because of who I am as a person. If I had to describe myself in one word, that word would be "fighter." My entire life, I have been fighting to succeed despite any given circumstances – whether it's getting the best grades I can, telling the funniest jokes, honing my martial arts and fighting techniques, or if it's persistently pursuing creative solutions to a given situation. This desire to succeed against all odds is fueled by my passion to be the change I wish to see in – along with my desire to give back to – the world. And this Civic Engagement Internship puts me one step closer to achieving that."
---
Muslim Travel Ban 3.0 Moves Forward
On Monday, Dec. 4th, the Supreme Court ruled that the Sept. 24 Muslim Travel Ban could move forward. This ruling means that the indefinite travel restrictions on travel from Iran, Libya, Syria, Yemen, Somalia, Chad, North Korea and Venezuela will go into effect. This ruling is only on whether the ban may be implemented while its constitutionality is being challenged in the courts. The legal challenges are ongoing, and we will likely see the case back at the Supreme Court in the coming months. Need to get up to speed on the travel bans? HIAS has a great timeline and summary.
This travel ban will likely increase the already heightened scrutiny and surveillance of Muslim communities and travelers entering the US from all countries, including US Citizens returning to the country. All travelers should understand their rights and have the number of a trusted attorney handy when entering the U.S.
What Should You Do?
If you, a family member, or friend are traveling from one of the restricted countries, you should immediately speak with a trusted attorney about your options.
All travelers should brush up on their rights at the airport and ports of entry. The ACLU has a handy guide available.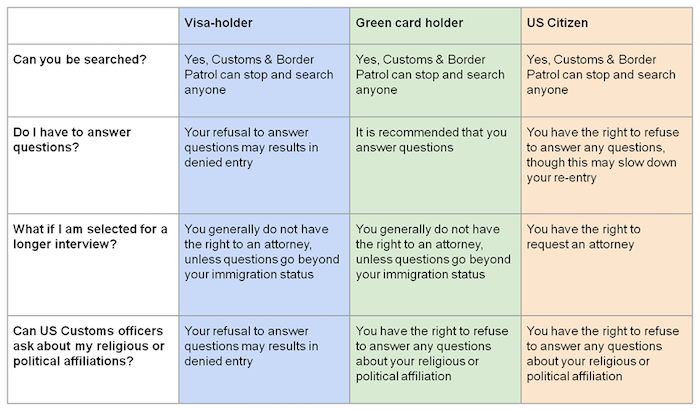 The Oct. 24 90 day ban on refugee resettlement from Egypt, Iran, Iraq, Libya, Mali, North Korea, Somalia, South Sudan, Syria, Yemen, and stateless Palestinians is still in effect. In addition the Administration has set a 45,000 cap on refugee resettlement for FY2018 and ended the follow-to-join program, which will severely limit the ability of families to reunite.
Upcoming Events
Free Citizenship Clinic / Clinica de ciudadania gratuita – Philadelphia
Thu. Dec 7, 5:00pm - 8:00pm
Esperanza College, 4261 N. 5th Street, Philadelphia, PA 19140.
Ceiba and Esperanza Immigration Legal Services will be hosting a citizenship eligibility screening. Call to reserve a place at the upcoming session where accredited representatives, attorneys, and trained volunteers will screen you for US citizenship. Space is limited. Call 215-324-0746 to reserve your place.
Llámenos para reservar un lugar en la próxima sesión de selección de elegibilidad para la ciudadanía en la que representantes acreditados, abogados y voluntarios capacitados lo seleccionarán para obtener la ciudadanía estadounidense. El espacio es limitado. Llame al 215-324-0746 para reservar su lugar.
Immigration Walk-In Clinic/Clinica de Inmigracion – Gettysburg, PA
Thu. Dec 7, 6:00pm - 8:00pm
Thu. Dec 14, 6:00pm - 8:00pm
Glatfelter Hall, Room 007, Gettysburg College
Meet with trained and confidential Community Navigators for initial screening for immigration relief and to answer questions and provide information regarding your rights. An appointment with an immigration attorney will follow. If you are unavailable in the evening, call 717-339-6783 to schedule a daytime appointment with Casa de la Cultura.
Reúnase con promotores comunitarios confidenciales y capacitados para proveer preselección para alivio migratorio ye proveer información sobre sus derechos. Una cita con un abogado seguirá. Si no está disponible por la noche, llame al 717-339-6783 para programar una cita de día con Casa de la Cultura.
#StoptheHate Bi-Weekly Call
Fri. Dec 15, 12:00pm
Join activists from around the state who are working to stop all anti-immigrant legislation in PA and to pass pro-immigrant policies at the municipal and state levels. Every call we will have an in-depth presentation on a different topic or campaign.
This week's topic is employment-based immigration. Registration is required to receive the video link and call-in information.
#ShutDownBerks Interfaith Vigil
Sun. Dec. 17, 3:30pm
Berks Family Detention Center, 1040 Berks Rd, Leesport PA
Pennsylvania is one of two states in the nation that hosts a prison for immigrant children, known as the Berks County Detention Center, the others being Texas. Families have reported verbal abuse, workers' rights abuses, medical neglect and in its first year of operation a mother was raped in front of other families. Please join us as we continue to lift our voices for the individuals who continue to be detained in the Berks County Detention Center. RSVP on Facebook.