Defend Immigrant and Refugee Communities Today!
2017 brought unprecedented, wide-ranging attacks on immigration and refugee resettlement. From ending DACA, TPS status, and follow-to-join policies, to threatening family-based immigration and the diversity visa program this administration has promoted a series of racist, xenophobic policy changes that attack the very idea of building a diverse and inclusive society. As a result, communities and families across the country are faced with heart wrenching decisions about how to stay together and stay safe.
Where can you start? Responding to every new policy proposal can feel overwhelming! Here are a few immediate steps you can take to defend immigrant and refugee communities:
TPS: Temporary Protected Status (TPS), is a provisional legal protection from deportation granted to migrants who are unable to return to their home countries due to environmental disasters or social conflict. This administration has already ended TPS for several countries, including Haiti, Nicaragua, and Liberia. The Department of Homeland Security (DHS) must announce its decision about TPS for Honduras by Jan. 8th. Join actions the week of Jan. 5-13, and learn more about TPS.
Dream Act: Congress went on vacation last year without passing a Dream Act that would ensure that undocumented youth, including hundreds of thousands of DACA recipients, have a pathway to citizenship. They must do so now!

Call: Take 5 minutes and call your member of Congress and demand they take immediate action to protect undocumented young people by passing a clean Dream Act that does not include funding for increased enforcement, detention beds, or border wall.
Show Up: Many immigrant-led groups will be leading actions in Pennsylvania and DC over the next few weeks to demand action from Congress. Check our calendar of events and follow us on Facebook to stay up to date!

Ending police/ICE collaboration: Last fall, Bensalem's Public Safety Director, Fred Harran, announced that Bensalem Police Department has applied to be part of 287g program, which trains local police to act as immigration officers. This type of collaboration decreases public safety, opens the township to legal liability, and encourages racial profiling. We must unite to ensure that Bensalem is the last community in PA to apply to this damaging program! Join local community leaders who will be speaking out against Bensalem joining 287g at the next Council Meeting on Jan. 8, 7pm. If you can't make the meeting, sign the petition!
---
Member of the Month: CASA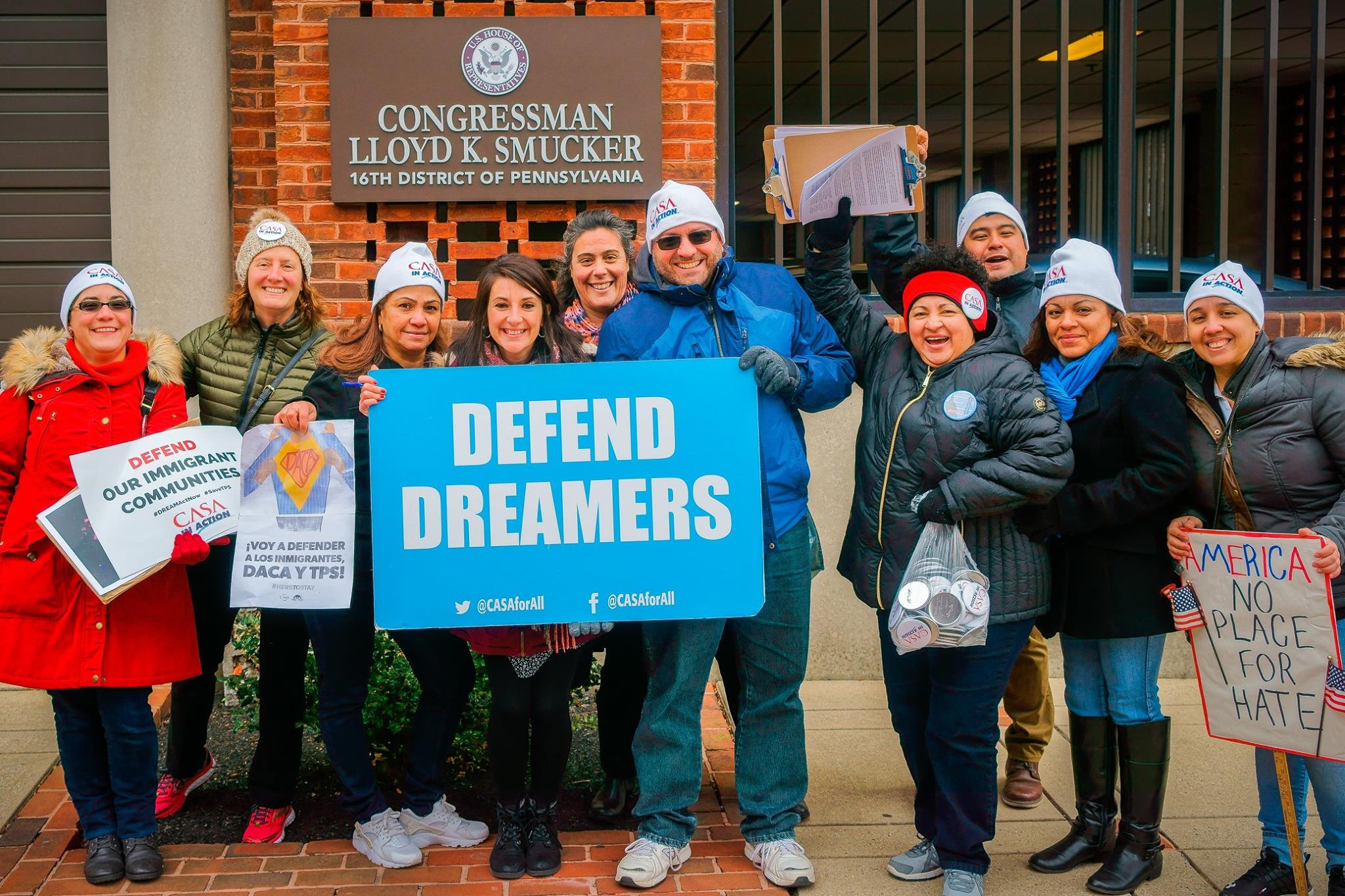 CASA is a regional immigrant rights organization in the mid-atlantic, with offices in Pennsylvania, Maryland, and Virginia whose mission is to create a more just society by building power and providing high quality services in working class and immigrant communities. ' Pennsylvania office opened in York PA in the spring of 2016, and has been a PICC member ever since! CASA was thrilled to partner with PICC on statewide and national advocacy efforts and with PA is ready network members to hold 10 citizenship, DACA/DAPA, and Comprehensive Screening Clinics over the last two years, reaching hundreds of immigrants in south central PA in York, Lancaster, and Dauphin Counties. In 2018 CASA will be moving into a permanent home in PA and we look forward to expanding our programs and services, and to working with PICC and PA is Ready members to win justice for immigrant families in PA!
---
Civic Engagement Internship
We are currently looking for a new Civic Engagement intern to assist with our New Citizens=New Voters program. PICC volunteers attend every naturalization ceremony at the Philadelphia USCIS office to ensure all new citizens are given an opportunity to register to vote. This work is crucial to build new citizen voter power and to engage new Americans in the political process. We are looking for individuals who can commit a minimum of 10 weeks to assist in coordinating this program. Interns must be able to attend at least one full day of ceremonies - generally on Mondays and Fridays. This internship is located in Center City, Philadelphia. Applications will be reviewed on a rolling basis. Please contact Carlos Adolfo Gonzalez to apply or with questions: carlosgonzalez@paimmigrant.org.
---
Community Navigator Trainings Series
One of our core values is to support and facilitate the development of leadership within immigrant communities to ensure that immigrants and refugees are at the fore in the development of community-based service programs and advocacy campaigns.
In 2018, we are living out this value through our Community Navigator Program.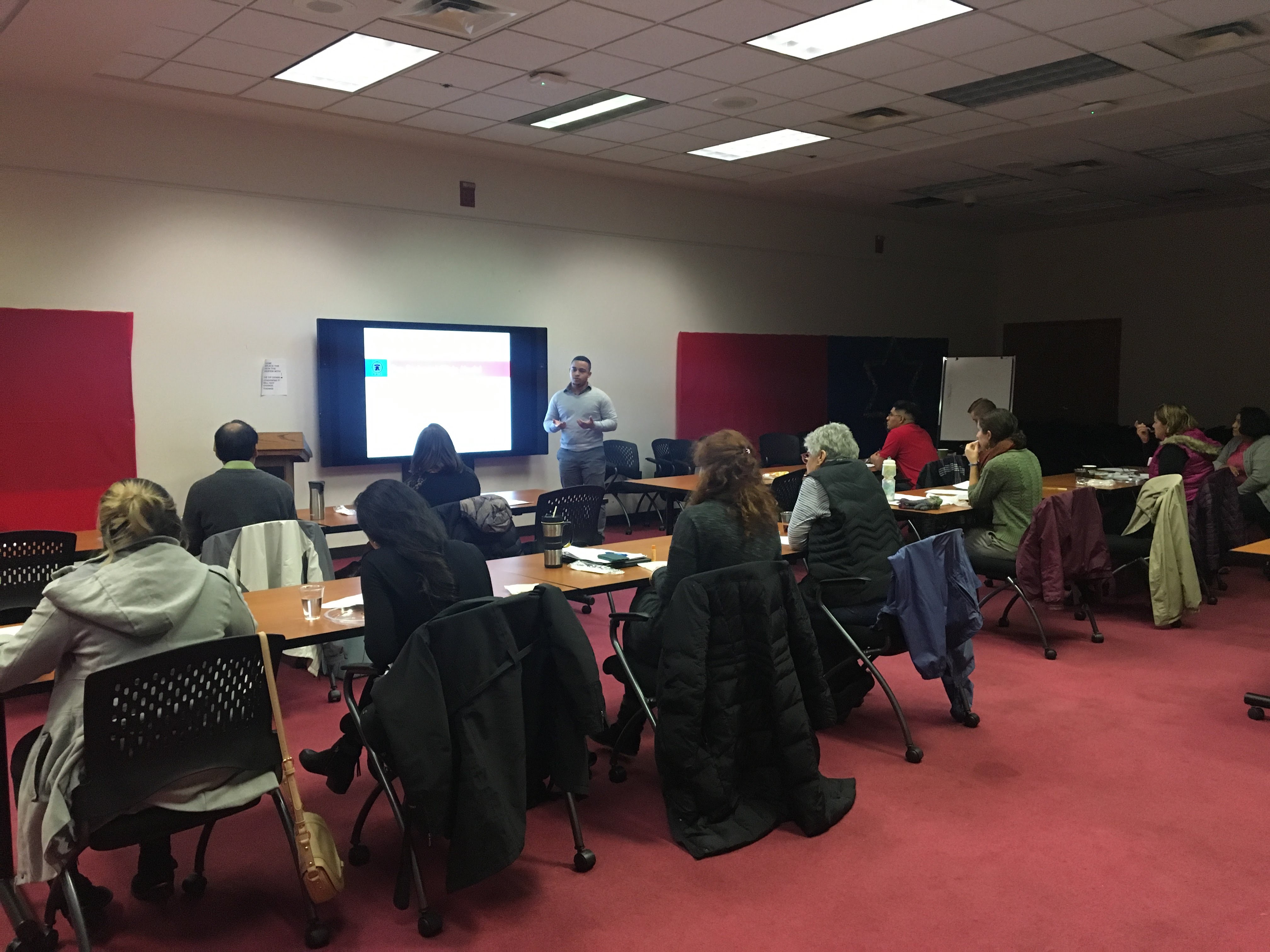 What is a Community Navigator? They are community members who receive specialized training to provide quality immigration services and information to their communities. This training includes information on Immigration 101, Know Your Rights, Deportation Defense, Naturalization, Eligibility Screening, Presentation Skills, and more! After completing the PICC Community Navigator Program, participants will be able to lead community education events in their communities to help educate people about their rights, assist families with deportation defense plans, organize legal clinics and assist attorneys with immigration screenings and naturalization applications.
Last winter, we hosted our first complete Community Navigator series in Pittsburgh, and we will continue to host these trainings quarterly. Our next Community Navigator training series will be in February, and folllowing series in April, August, and November. Each series will include both in-person and webinar session, and all trainings will be offered in English and Spanish, with interpretation to other languages available.
Check our website for dates and registration information. Contact Carlos, carlosgonzalez@paimmigrant.org (Eastern PA) or Alicia, aliciaquebral@paimmigrant.org (Western PA) with any questions!
Upcoming Events
Help Bensalem Resist 287g
Mon Jan 8, 7:00pm - 10:00pm
2400 Byberry Rd, Bensalem, PA 19020-6101
The recent announcement made by Bensalem's Public Safety Director, Fred Harran, that Bensalem Police Department has applied to be part of 287g program, in which local police are trained to act as immigration officers, is alarming. Community leaders will be speaking out against 287g at the Council Meeting. More information on the event and background on 287g on the Facebook event.
#StoptheHate Bi-Weekly Call
Join activists from around the state who are working to stop all anti-immigrant legislation in PA and to pass pro-immigrant policies at the municipal and state levels. Every call we will have an in-depth presentation on a different topic or campaign.
This week's topic: Effective legislative advocacy
Registration is required to receive the video link and call-in information.
The 20th Annual Summit Against Racism
Sat Jan 20, 8:00am - 5:00pm
Pittsburgh Theological Seminary 616 N. Highland Avenue Pittsburgh, PA 15206
The Summit Against Racism, hosted by the Black & White Reunion, is the leading educational and skills-building gathering centered on racial justice in the Pittsburgh region.
This year's theme is "The Struggle Continues: Healing Trauma, Building Community, and Inspiring Action." Join PICC partners Casa San Jose, Friends of Farmworkers, and LCLAA in their panels on trauma and healing in immigrant communities!
More information on their Facebook event and registration here.
#StoptheHate Bi-Weekly Call
Fri Jan 26, 2:00pm
This week's topic: Sanctuary policy advocacy for allies
Registration is required to receive the video link and call-in information.